Belfast Primark fire: New store at Commonwealth House to open in December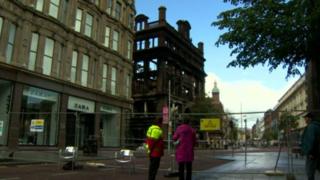 Primark will reopen in Belfast city centre on 8 December, trading from Commonwealth House.
The new location was required after the company's flagship store at the Bank Buildings caught fire in August.
In an email to Primark staff, the company confirmed it would "once again be trading in Belfast city centre".
Primark was extending into Commonwealth House at the time of the fire. The email said work has also begun on Bank Buildings.
A spokesperson for Primark confirmed the news on Tuesday.
Primark has proposed demolishing the top two floors of its historic premises, believed to be the most unstable parts of the building.
The blaze at Primark's flagship store burned for three days after starting on 28 August.
A cordon, which remains in place due to health and safety reasons has also meant that 14 businesses near the Bank Buildings have not been able to trade.
Belfast City Council said it was working closely with Primark to reduce the cordon, but any reduction could only happen once it was safe to do so.
In October, it was revealed that Belfast had seen a "drastic dip" in shopping footfall as a direct result of the fire.