NI newspapers: John Downey arrest, a Brexit warning and remembrance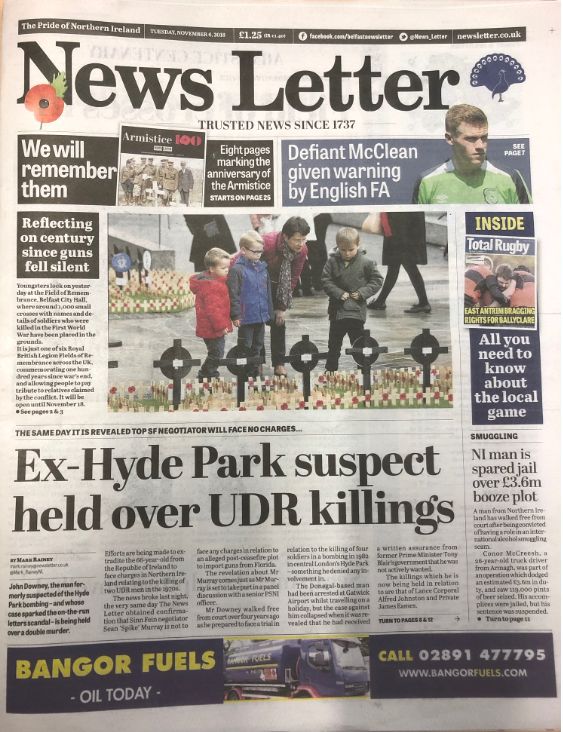 Former IRA member John Downey's arrest and Leo Varadkar's Brexit warning both make the front pages on Tuesday.
He was previously accused of murdering four soldiers in the 1982 IRA Hyde Park bombing, but the trial collapsed in 2014.
The Fine Gael leader was responding to an open letter published in the paper yesterday and signed by 1,000 people from civic nationalism.
Rev Latimer tells the paper British Army top brass wanted him sacked as a chaplain because of his relationship with the late Sinn Féin leader.
'Remembrance of the fallen'
Among the stories commemorating the end of WW1 is an article on "how the Kaiser united Irish enemies on Western Front".
It also marks Monday's opening of the Field of Remembrance at Belfast City Hall.
Representatives of the Armed Forces joined with civic and church leaders in a poignant service marking 100 years since the guns fell silent to end the Great War.
The report states that some £10.784m has been earmarked to deal with additional issues facing the sector over the coming months.
That is a 31.7% rise on the £8.184m spent last winter on top of normal expenditure.
The funds will go towards delays in people being discharged, improving patient flow and boosting ambulance turnaround times.
Mr McAleer's controversial movie about a late-term abortion doctor has taken more than $3.5m since it opened in the US in mid-October.
Gosnell: The Trial Of America's Biggest Serial Killer is the story of Dr Kermit Gosnell, a physician and abortion provider who was convicted of murder and manslaughter charges, resulting in a life sentence in prison.
Speaking to the Telegraph, Mr McAleer said that distributors told him that it was a great movie, but too controversial.
Heritage train vandalised
A heritage railway in County Down has been targeted by vandals who destroyed a train carriage used for Santa's grotto visits, reports the Irish News.
The train's windows were smashed on Halloween night as volunteers with Downpatrick and County Down Railway were working on public trains.
The attack caused damage worth hundreds of pounds, according to the report.