Bohemian FC axe 'dopest' Bob Marley-themed top
By Jake Williamson
BBC News NI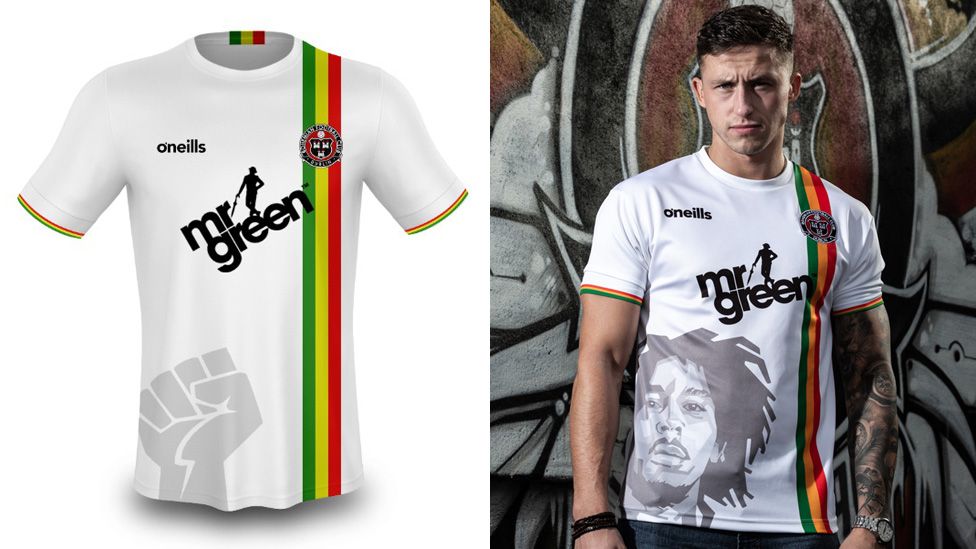 A football jersey bearing reggae legend Bob Marley's face has been pulled after the club which released it was told it could not use his image.
Dublin's Bohemian FC says it cannot honour record pre-orders for the top.
The club was contacted by the Bob Marley representative agency who told them they did not have the image rights.
It was deigned as a tribute to Marley, who performed at the club's home stadium, Dalymount Park, in 1980.
Ky-Mani Marley told BBC News NI: "I love it."
Its replacement features a clenched, raised fist to express "unity, strength and resistance".
A club statement said: "Bohemian Football Club acted in good faith and followed the correct process when purchasing the licence for this image via a world-leading third-party photo licensing company.
"However, the Bob Marley representative agency has informed us that this company did not have the right to grant any such licence for this image.
"We are dealing with this separately.
"Subsequently, following direct correspondence with the Bob Marley representative agency, they cannot license the image to the Bohemian Football Club due to their own contractual and other obligations.
"Consequently, we can no longer supply the jersey with the image of Bob Marley as advertised."
The club added fans who ordered the jersey can get a full refund, a shop credit note or the new redesigned jersey.
"Anyone who has not expressed a wish to have a refund or be issued with a credit note/store voucher will receive the redesigned 2019 Bohemian away jersey as originally planned by mid-December."
Bohemian FC also thanked fans for the reaction to the jersey which featured in Sports Illustrated and Spanish newspaper Marca, as it struck a chord with music and football lovers across the globe.
"Finally, the Bohemian Football Club would like to thank the thousands of people who made contact with the club since the pre-order release, from over 45 countries in five continents.
"We were astonished at the truly global reaction we received," it said.
Still a class jersey if you ask me - are you listening Santa?

— Graham Clifford (@GrahamJClifford) November 5, 2018
The club has now decided to give 10% of profits from the redesigned jersey to Movement of Asylum Seekers in Ireland (MASI).
Charity spokeswoman Lucky Khambule said: "MASI warmly welcomes this initiative by the Bohemian Football Club.
Bohemians have been assisting MASI and bringing people in direct provision centres to games for several years and are very proactive on numerous other social issues too.
"We hope the jersey is a huge success and allows for many more trips to Dalymount Park in 2019 for those affected by direct provision."