Brexit: Workers 'should not be excluded' from Northern Ireland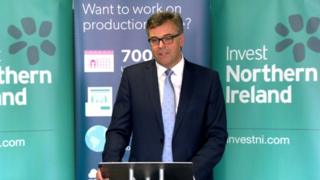 It is crucial that skilled workers are not prevented from getting jobs in Northern Ireland in the period after Brexit, the head of Invest NI says.
Alastair Hamilton told BBC NI's Inside Business the drawbridge should not be pulled up on those people needed across all sectors of the economy.
Last month, the prime minister pledged low-skilled migration would fall when the UK ends EU free movement access.
Theresa May said high-skilled workers would be prioritised.
She said there would be no preferential treatment for people from the EU, compared with those from the rest of the world.
But she said a future trade deal with the EU could include an agreement on "mobility" of each other's workers.
'Very vocal'
Mr Hamilton said Invest NI had consistently raised the issue of the supply of skilled workers into Northern Ireland.
He told BBC Inside Business: "That's an area that we have been very vocal, in terms of our input into the decision-makers around the Brexit policy side.
"Around making sure that there are visa regimes that will allow both high skilled, but also people in some of those manufacturing areas to still be able to come into the country post-Brexit, where there is a job for them and where we have a need for their skills.
"We need to be careful that we don't draw up the drawbridge on all of that, in an immigration debate, where we really do need those skills."
He added: "We have benefited from a visa scheme for those people living outside of the EU for many years, we just need to translate that into a future world."
Inside Business is broadcast on BBC Radio Ulster on Sundays at 1330 BST and on Mondays at 1830 BST.