Chris Dalzell tattoos: The man whose face divides opinion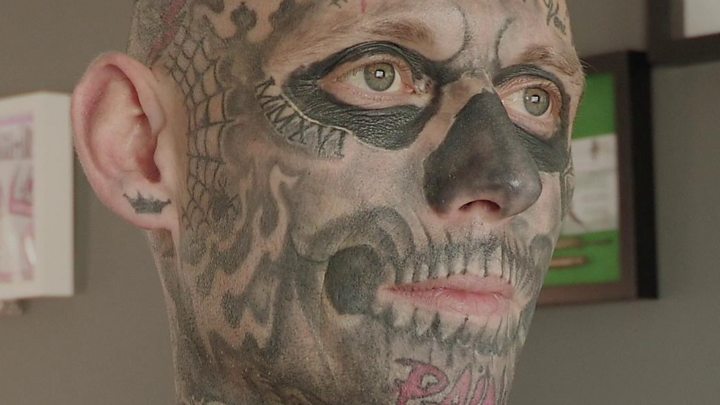 "Anytime I'm in the shower and I see a bit of skin it really annoys me - I need it covered."
County Down man Chris Dalzell admits that he is addicted to tattoos.
If you're looking for a part of his body that has not been inked, you'll struggle.
For some, the 33-year-old Bangor man is a living, breathing work of art, covered from head to his toe in colourful words and images.
But all art is subjective and it's unsurprising that not everyone is a fan of his tattooed face.
To his baby daughter Jessica - he's daddy. To strangers the reaction has ranged from "monster" to "must be a criminal".
"People say things like my kids should be taken off me and I shouldn't be allowed to go to nursery with her because of the way I look or that I look like an axe murderer," he tells BBC News NI.
"People come up to me in the street and say I look like a criminal."
Chris makes the point that if he was involved in a crime it wouldn't be too hard for someone to identify him.
Chris has always had a passion for body art but in recent years the reason behind his self-styled addiction has changed.
He says uses them to cope with his daughter's illness.
Jessica was induced early at 34 weeks because she was not growing properly in the womb and now has numerous health problems.
"She's been very seriously ill since she was born. I did not know how to deal with the fact that I couldn't take the pain away from her.
While it has been a long held dream to be covered in tattoos, Chris says her illnesses have speeded up the process.
"I felt that the best thing for me to do to deal with it would be to get some tattoos.
"It has helped me cope and I wanted her to be used to me looking like this" he says.
"If I put a Halloween mask on I scare Jess but she'll touch my face, she'll kiss me. She knows my skin and that I'm her dad."
Chris says he would like to feel more "accepted" by the public.
"I totally understand why I get judged - you don't see me everyday but once people talk to me and understand me than they are more accepting.
"I'm not the type of person you'd perceive me to be".
"Recently I spoke to an 84-year-old outside a supermarket who asked for a picture with me. He wasn't scared - just in awe."
But despite his love of tattoos Chris does not want Jess to follow in his footsteps.
'Job problems'
"I wouldn't want her to have any tattoos on her body never mind her face. As she grows up we will have a lot of conservations about the consequences.
Apart from verbal abuse - what are the consequences?
"I'm an experienced chef and my CV says I have visible tattoos.
"When I'm called up about an interview I always reiterate that I have them all over my face and they either don't get back to me or I'm told, 'We have other candidates'".
"It holds me back in that sense.
"Believe it or not I never have actually sat and thought about that before I got them".
Why then - when such extreme body modification can revoke such reactions - does he keep going?
"I've always wanted to be covered since I was young.
"My girlfriend was apprehensive as she thought I was fine the way I was - when I first met Ruth I had no facial tattoos.
"Now she's accepting of them."
So, despite the negative attention, he has no intention of stepping away from the needle and his ultimate aim is to cover his whole body.
However he adds, "if it ever comes to the stage that my kids really hate them, I would get them lasered off".