Primark fire: Council approves building application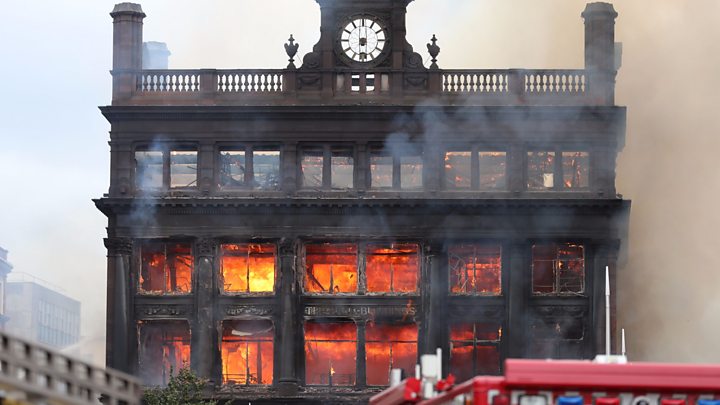 Primark has said it will open a Belfast city centre store on a new site in December after a listed buildings application for Bank Buildings was approved.
A fire in Bank Buildings in August has led to 14 businesses being closed - possibly for as long as four months.
Primark has proposed demolishing the top two floors of its historic premises, believed to be the most unstable parts of the building.
It said work will begin immediately.
It also said that it is planning to open a store in Belfast's Commonwealth House in Castle Street in December.
"We believe that opening up a Primark store in the city centre at this time will help to restore footfall into the area," it said.
Belfast City Council said removing the top two floors of Bank Buildings will make it possible to reduce the cordon around Bank Buildings and restore pedestrian access between Royal Avenue and Donegall Place.
The floors are to be rebuilt using salvaged materials.
This will be subject to health and safety considerations as work takes place.
Impact of the Primark fire:
By Julian O'Neill, BBC News NI Business Correspondent
Belfast city centre is losing up to £3m a month due to the Bank Buildings fire.
The figure was contained in a council report published ahead of Friday's meeting to decide on Primark's action plan.
It said the amount "does not take into account the long-term economic impact of the fire".
The report also showed how shopper numbers have been affected.
The Castle Court shopping complex has seen footfall crash by 49%.
But Corn Market has seen shopper numbers rise by 24% due to the configuration of the cordon around Bank Buildings.
There has been a 12% reduction in car parking revenue in the three weeks following the fire, compared with the preceding four weeks, while public transport passenger numbers have fallen by 28,250 (4%) compared with the previous year.
The council said it understands that Primark is ready to begin the work.
The council said it had also agreed a process with Primark that includes a temporary designed walkway, which the council hopes to be in place within weeks.
Councillor Matt Garrett, chairman of the council's planning committee, said: "I'm pleased that we have been able to give the green light to this application and work can now get under way with the aim of reducing the cordon as soon as possible, and as soon as it is safe to do so.
"The committee has asked for an undertaking from Primark that it will begin work as soon as practically possible.
"There is a real urgency for businesses, both inside and outside the cordon, to ensure their economic resilience in the run-up to Christmas and beyond, so it's vital that Primark moves forward and ensures the required works are completed as soon as possible."
Walkway
Primark said it welcomed the council's decision.
"We are starting immediately and we anticipate that this phase of work will be ongoing over a number of months," it said.
"We will continue to work with the council and other stakeholders to expedite this conservation-led approach as much as we can within the guidelines of the required legal and planning process.
"At the same time, we recognise how important it is to reduce the protective cordon. We have agreed a walkway solution with the council to open up Royal Avenue.
"Work has started and it should be in place in a matter of weeks."