NI Paper Review: Cawdrey family seek 'truth'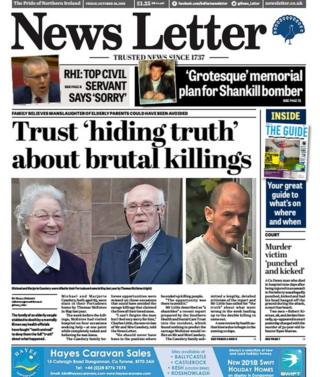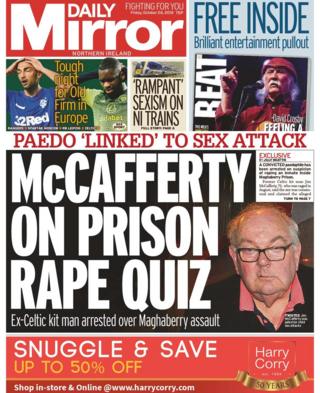 It is a grim read for a Friday morning.
Three of the newspapers lead with various murders and the Daily Mirror leads with a rape allegation.
But bear with us, there are a few brighter stories on the inside pages.
The Belfast Telegraph leads with "Shankill bomber tribute snubbed by family".
The paper reports that the family of Thomas Begley have nothing to do with a Milltown commemoration for the IRA bomber.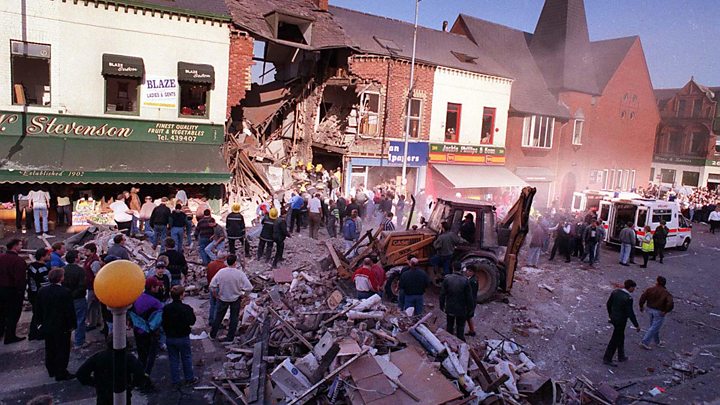 The killer's father, Billy Begley, said he "would've chained him to his bed" had he known his son was to carry out one of the IRA's most notorious atrocities.
The Shankill bombing happened at Frizzell's fish shop on 23 October 1993.
Nine people were killed as well as IRA bomber Thomas Begley. More than 50 were injured.
Billy Begley told the Belfast Telegraph they marked Thomas' death in their own private way.
He said "We are very sorry for what happened... our family is not like that and if we had known what Thomas was going to do that day we would've chained him to his bed".
The News Letter leads with "Trust hiding truth about brutal killings".
The family of Michael and Marjorie Cawdery say a report by the Southern Health and Social Care Trust into the circumstances around the couple's death was "a shambles".
The elderly couple were stabbed to death by a mentally ill man in May 2017.
The week before the killings Thomas McEntee visited hospital on multiple occasions - at one point while completely naked and believing he was Jesus.
Charles Little, the son in law of the Cawdreys, said he can't forgive McEntee but he feels "very sorry for him".
Mr Little told the News Letter that Mc Entee should "never have been in the position where he ended up killing people" adding that "the opportunity was there to avoid it".
The Southern Health Trust said there was no way to predict what was going to happen, but Mr Little strongly disagrees with their view.
Thought it was 'a Halloween prank'
The Irish News leads with "Killers told me to be quiet before shooting dead my brothers".
Roisin Cairns reflects on the attack that left her two brothers dead.
The double murder happened in the wake of the Shankill bomb.
"In my head it was a Halloween prank", Ms Cairns tells the Irish News.
"One of them stood and put his finger up to tell me to be silent before they opened fire".
Gerard, 22, and Rory, 18, were shot dead by loyalists in their home in County Down in October 1993.
Also in the paper is news that Fianna Fáil headquarters seems to be at loggerheads with some senior party members.
At a Brexit meeting in Omagh, County Tyrone, on Thursday night, it was announced that councillor Sorcha McAnespy was standing as a Fianna Fáil candidate in Northern Ireland.
According to the paper Ms McAnespy told the meeting that "Fianna Fáil have a vision for Omagh, Tyrone, Northern Ireland and the whole island".
Eamon O'Cuív, the grandson of former taoiseach and president Eamon DeValera, also spoke at the launch.
He said: "I believe that Fianna Fáil standing in the north will help give proper representation to the people concerned, and challenge the status quo of Sinn Féin and the DUP".
Shortly thereafter Fianna Fáil tweeted "Despite some reports, the party has made no decision" on contesting the 2019 local elections in Northern Ireland.
The move comes amid ongoing speculation that Fianna Fáil may ultimately merge with the SDLP to run in future Northern Ireland elections.
Jim McCafferty, the 72-year-old former Celtic kit man who was jailed in August for sexually abusing a teenage footballer "in a calculated fashion", has been arrested on suspicion of raping an inmate in Maghaberry Prison, according to the Irish Daily Mirror.
The paper reports that McCafferty claims the sex was consensual.
In a statement the PSNI said "a 72-year-old man was arrested on suspicion of rape on October 9. He was interviewed and a file has been sent to the public prosecution service".
Also in the Mirror is news of a daring rescue on the R445 just outside Naas in County Kildare.
Apparently "no feathers were ruffled" as a "majestic" swan was shepherded off the busy road by gardaí.