Disagreement over Fianna Fáil's Northern Ireland candidate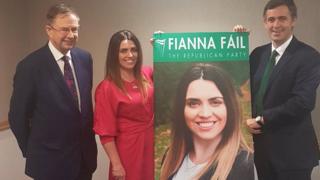 Fianna Fáil headquarters appears to be at loggerheads with some senior members of the party.
At a Brexit meeting in Omagh, County Tyrone, on Thursday night, it was announced that councillor Sorcha McAnespy will be standing as a Fianna Fáil candidate in Northern Ireland.
Cllr McAnespy was said to be contesting next May's local council election.
But Fianna Fáil has said the party has made "no decision" on contesting the election and is in talks with the SDLP.
Fianna Fáil is currently the main opposition party in the Republic of Ireland and is expected to unveil a number of other candidates in the time ahead.
Ms McAnespy, a member of Fianna Fáil's national executive, sits on the Fermanagh and Omagh District Council.
She was previously a Sinn Féin councillor and secured a place on the Fianna Fáil' national executive last year.
The move comes amid ongoing speculation that Fianna Fáil might ultimately merge with the SDLP to run in future Northern Ireland elections.
Party leader Micheál Martin has previously pledged to contest elections in Northern Ireland.
Fianna Fáil TD Éamon O'Cuív and senator Mark Daly were in attendance at the event in Omagh.
In a press release, the men said they will be her joint campaign managers.
"There is an appetite for change in Northern Ireland and there is an appetite now more than ever for Fianna Fáil to contest elections in Northern Ireland," said Ms McAnespy.
However, in a statement released following the event, Fianna Fáil said: "The party has made no decision with regard to contesting the 2019 NI local elections. The party is continuing its discussions with the SDLP".
On the BBC's The View programme on Thursday night, SDLP MLA Claire Hanna said she believed the announcement was "a rogue move".
She also said she did not believe Fianna Fáil solves any problems currently facing Northern Ireland, the Republic of Ireland and the SDLP.
"Some of the personnel who were at that event wouldn't be in concert with their leadership, but it would be remiss of me to say that it is not a politics that appeals to me and it's not a party I would personally join," she said.
Party roots
Established in 1926, Fianna Fáil has long claimed to be Ireland's true republican party.
It has often faced questions on why it would not contest elections on a 32-county basis.
Its eventual decision marks a significant move in the political landscape on the island and comes when the debate over Irish unity has gained renewed traction due to Brexit.