David Ford fined thousands over office sign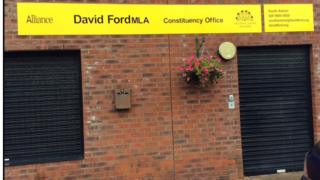 Former Alliance leader David Ford is facing a bill of thousands of pounds for breaking the rules on MLAs' office signs.
BBC News NI has learned he breached the regulations by including his phone number and email address on the sign above his door.
Mr Ford has insisted he has done nothing wrong.
The former justice minister is now threatening to take the Assembly Commission to court.
'Absolutely crazy'
But the DUP's Jim Wells who sits on the commission - which enforces the rules - has told BBC's The View programme the rule is "ridiculous" and needs to be scrapped.
"I think it is absolutely crazy that the staff in the assembly have been forced to impose this ridiculous fine of almost £10,000 simply because he put his phone number and his email address on his sign" he said
"How could you have an MLA that wasn't able to put his phone number on his sign like every other business and office in the country does."
The rules - set by the Independent Financial Review Panel - say only a limited amount of information can appear on the office sign including the member's name, MLA title and the logos for the assembly and the politician's party.
The rules state state that "any additional information will render any claim for rent and rates payment void".
David Ford - who retired from the assembly in June - has refused to say how much money he has been ordered to repay, but the average annual rent and rates allowance for MLAs is about £8,500.
Alan McQuillan, who helped draw up the rules as a former member of the now defunct Independent Financial Review Panel, said they must be followed.
"How many people today will go to an MLA's office to look for a number or email? They contact them on social media on Facebook, they look them up on their internet and send them an email via that," he said.
He added: "We didn't consider it a priority to have numbers and emails on the sign because there are so many other ways in which people can contact their MLA."
'Very sorry'
Mr McQuillan did admit feeling "very sorry" for David Ford who he described as "one of the most honest politicians" whose expenses were "always beyond reproach".
A spokesperson for the assembly said it "is not responsible for the rules in the determination" but is "required by law to apply it until such time as it is changed by a future panel".
They added: "Officials take this obligation seriously and seek to apply it fairly and equally to all members."
But they also point out that because of "the unusual effect of these rules, the Assembly Commission took repeated steps to bring them to the attention of all members".
They added each member "provides a photograph of his or her office which is the initial basis of any decision related to office signs".
Meanwhile, Mr Ford insists he acted "within the determination while continuing to display information useful to his constituents".
See the full report on BBC's The view on Thursday at 22:40 BST.