Stephen Carson: Forensic experts disagree over murder weapon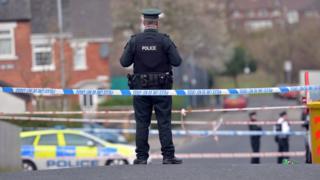 A forensic expert has told a murder trial he disagreed with another expert who linked a shotgun found in a defendant's flat to the killing.
Stephen Carson died after being shot in the head in his house in Walmer Street, Belfast in February 2016.
Two cousins from west Belfast, David 'Dee' Smith, 34, and Michael 'Spud' Lawrence, 39, deny murder.
A third cousin, Francis Smith, 42, is charged with offences linked to the murder.
On Thursday, a forensic scientist who specialises in firearms was called as a defence witness.
He told the court that after examining the report and findings of another forensic scientist, he did not reach the same conclusions as her regarding a sawn-off shotgun.
The gun was found in the wardrobe of one of the defendants in the days after the killing.
This gun, which prosecutors say was the murder weapon, was tested at the laboratory of Forensic Science Northern Ireland.
Earlier, the trial heard from the forensic scientist who carried out various tests, including firing a wad from the shotgun which was then compared with a wad removed from Mr Carson's head.
She concluded the shotgun was the murder weapon.
'Insufficient matches'
However, the defence witness expert told the jury that, in his opinion, it was not possible to say beyond reasonable doubt that the wad examined was discharged from the shotgun in question.
The witness, who has almost 30 years of experience including working with the Metropolitan Police and the Home Office, gave his evidence via videolink.
He confirmed he travelled to the NI Forensic Science Lab, where he spoke to the scientist who concluded the wad taken from Mr Carson was fired from the same weapon.
He said his counterpart reached her conclusions after examining striations from both wads.
Agreeing that there were "three or four" areas where there was a correlation of striations on both wads, the defence expert said there were "insufficient matching striations to definitively conclude" that the wad taken from the victim was fired from the right-hand barrel of the shotgun.
When asked if this was still his conclusion, he said: "Yes."
The expert was questioned about what usually happened when two experts disagreed, and said in such instances there was usually a third test conducted.
When asked if this happened in this case, he replied: "I don't believe it was."
The expert told the court that in his career, he had carried out "hundreds of wad comparisons" and, while he agreed that in this case there were some areas of matching, he said: "I could not conclude it had been definitively discharged from that gun. It may have been, but I could not conclude that."
Charges
The sawn-off shotgun was located during a search of Francis Smith's flat.
He and his cousin Michael Smith were both present and when the property was searched, a holdall containing shotgun cartridges was located in a wardrobe, along with the shotgun which was found in a rucksack.
Francis Smith, from Glenmurray Court, is being tried on four offences, all of which he denies.
He is charged with assisting offenders on dates between February 25 and 27 2016 - namely knowing a murder had been committed and allowing his premises to be used for the storing of firearms and ammunition used in the course of murder - and also possessing a handgun without a certificate.
He also denies possessing a firearm and ammunition in suspicious circumstances.
David 'Dee' Smith and Michael 'Spud' Smith, both with addresses in Monagh Parade, Belfast, are each being tried for murdering Mr Carson.
Both men deny the murder charge, while Michael Smith also denies a charge of possessing a firearm with intent to commit murder.
The trial continues on 5 November.