Ballymena tensions over rise in Roma community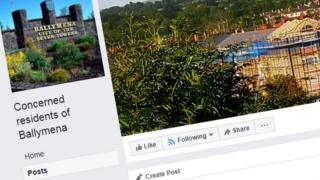 Police in Ballymena have said they will address "genuine concerns" about a rapid rise in the number of Roma people moving to the town.
They also said some reported incidents related to the community are not true.
There is no direct link between a recent rise in crime and an increase in Roma people, police added.
Tensions in the County Antrim town, which has suffered a number of factory closures in recent years, have been growing in recent weeks.
Many of Ballymena's food processors are still struggling to fill vacancies, and an abundance of some jobs has made the area attractive to people looking for work.
But some of the town's residents have raised concerns about the changing make up of the community.
Some contributors to a Facebook group called "Concerned Residents of Ballymena" have posted angry comments alongside pictures and videos of Roma people arriving in the town by bus or queuing up outside a recruitment centre.
About 400 people attended a public meeting opposing further immigration earlier this month.
Some of those who attended raised concerns about rising crime, access to jobs, housing, education and health care.
Members of the far-right group Britain First also attended the meeting.
Rodney Quigley, a member of the policing and community partnership in the area, said: "In some areas of Ballymena the Roma people gather in large groups and it can be intimidating for people and in some places people from the town feel that they are in the minority.
"We need to educate people who are coming to live here about our culture and way of living."
Mr Quigley said community workers had been working with the Inter-Ethnic Forum to alleviate the concerns of foreign nationals who have lived in the town for some time.
"We have a large community of foreign nationals in Ballymena who have blended in well. We want them to know that they are welcome here."
TUV leader Jim Allister criticised the police for not attending the residents' meeting.
Speaking outside Harryville community centre, he said: "There was a need for a police presence for a different purpose here today and that was to talk to people to explain their position and that was to answer the legitimate questions that many people have.
"So I again say: Why did the police run away from that and, in so doing, leave people more resentful... concluding that the police aren't interested?"
The police have since said they will address genuine concerns around immigration, but emphasised that some reports were "clearly not true".
Supt Darrin Jones said: "Tensions are there, I think there are genuine concerns within the community which we are addressing.
"What I would ask is if anyone has concerns about criminality, anti-social behaviour or other issues within the town, they should report them, to us or the appropriate authority, so that they can be addressed through a multi-agency framework.
"We are getting some reports of incidents that are happening that clearly aren't true, sometimes these things get lost in the telling.
"What I would ask is if anyone has any concerns like that to raise it with us or raise it through other authorities."
UUP leader Robin Swann, who attended the residents' meeting in Ballymena, said there was a lot of frustration.
"It's not a place I wanted to be," he told BBC News NI.
"It's an issue that needs solved and that is why I came here today to try and bring about the reassurances that we're here to represent people."
The Inter-Ethnic Forum in Ballymena has also been part of a multi-agency response trying to address residents' concerns.
Ivy Goddard, who works closely with the Roma community, said: "If people were just coming for benefits they could go anywhere at all, but the reason they are coming to Ballymena is because there are jobs here and I would like to emphasise that most people who come here come because there are jobs.
"We have met with members of a concerned residents' group, we know their concerns are very valid and we are working hard with the other agencies in the borough to address those concerns."