Sexist abuse of female rugby ref revealed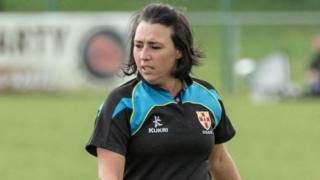 Details of sexist verbal abuse shouted at a female rugby referee have been revealed in a leaked report.
Coleraine RFC has been fined £5,000 by the Irish Rugby Football Union's Ulster Branch over the incident.
The six-page document, seen by BBC News NI, was written by referee Grainne Crabtree about the match at Coleraine Rugby Club in March.
Coleraine's 1st XV Senior Men's team were hosting Dromore RFC in a Kukri Ulster Rugby Championship game.
Warning: This article contains language that some readers may find offensive
The report, which was submitted to the IRFU's Ulster Branch, outlines the "sustained, vile, sexist abuse" to which Ms Crabtree says she was subjected during the game by four men.
In it, she describes how a small number of spectators shouted a "tirade of profanities and sexual remarks" at her during the 80-minute game.
'I could hear them laughing'
As the match progressed, Ms Crabtree wrote that she overheard the men yelling at her in sexually degrading language, using the words "slag" and "ho" when she made a decision to award a yellow card.
"The game continued and I could hear men laughing at how funny they found themselves," she said.
"I noticed that the crowd was splitting, which left four men standing on their own.
"As I approached, they jeered and told me I was a 'fucking joke'."
Her statement said the men told her to "take off your shorts so we get a better look at your arse".
Ms Crabtree said the abuse made her feel "anxious and unsettled".
The report states the "jeering and sexual comments" continued into the second half.
It said the men shouted comments such as: "Yo, you slag, you're a fucking disgrace, you slag."
'Shock, confusion and fear'
Ms Crabtree said she approached the men after the game to ask their names for her official report, and asking if they felt their behaviour had been appropriate.
She said one of the men dismissed her using a graphic sexual swear word.
Ms Crabtree described feeling "shock, confusion and fear" at the comments, adding that, as she made her way into the referee changing room, she felt "physically sick".
In the days following the initial report to Ulster Branch, a £2,000 suspended fine was handed down to Coleraine RFC.
At the time, the Ulster Society of Rugby Football Referees (USRFR) said that Ulster rugby officials had investigated the abuse and upheld the charges.
However, in her report, Ms Crabtree described that initial fine as a "non-sanction" adding that she felt it added "insult to injury".
"I endured continued sexist abuse and Coleraine have had no immediate punishment and these men were not held accountable for their actions," she said.
She added that she felt let down by both the club and the Ulster Branch over how the situation was handled.
£5,000 fine
The initial response was not welcomed by the USRFR either, which refused to officiate at any Coleraine RFC home matches in protest as Ms Crabtree had not yet received an apology, and the club had not held anyone to account.
That prompted a second investigation in September, when the Ulster Branch received Ms Crabtree's report.
It has since been revealed that the club has been fined £5,000 by Ulster rugby officials in relation to the incident.
It is understood that £2,000 of that fine will be returned to Coleraine RFC in two years if there are no further incidents.
In a statement issued earlier this week, a Coleraine RFC spokesperson said the club was "pleased" the issue had been resolved and had accepted the outcome of the investigation.
"We are now looking forward to giving a warm welcome to all referees and teams visiting our club for matches this week and in the future," said the spokesperson.
A spokesperson for Ulster Branch said: "Following a recommendation by the review panel, the IRFU Ulster Branch has imposed a fine on Coleraine RFC.
"This sanction has been accepted by the club.
"While the Coleraine RFC issue is now closed, the IRFU Ulster Branch is actively considering how to promote respect for referees."
On Tuesday the IRFU released a strategic plan outlining the organisation's goals for both the men's and women's game over the next five years.
One of the key objectives is to increase the female participation in rugby to 20% - including players, coaches, referees, volunteers and committees.
There are currently 12 women refereeing rugby matches in Ireland; the IRFU hope this will increase to 80 by 2023.
Ms Crabtree is one of only three female rugby referees in Ulster.
A former City of Derry and Ulster Rugby player, Ms Crabtree has been volunteering as a rugby referee since her playing career was cut short through injury.
She has now completed a Level 4 course, qualifying her to referee All Ireland League matches.
No-one identified
As a result of the incident, it is understood that officials have now launched a second review, focusing on educating referees on how to deal with abusive behaviour during matches.
None of the men responsible for the abuse have been identified or disciplined.
The USRFR has now ended its boycott and will referee Coleraine's first home game since the incident - on Saturday when the 1st XV will again play host to Dromore RFC.
"Our interest is the protection of our volunteer members and we are assured by the branch that they are actively reviewing measures to ensure their future well-being," said a USRFR spokesperson.
In a statement on Thursday, Coleraine RFC said it had "apologised to the referee for the abuse she was subjected to by spectators at the club".
"A plan is now in place at the club to ensure that Coleraine remains a safe place for spectators, players and officials and we look forward to welcoming visiting teams, their supporters and of course our match officials," it continued.