Concerns raised over Northern Ireland cancer screening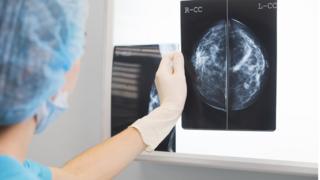 The chair of a parliamentary committee has written to the Department of Health over concerns about cancer screening in Northern Ireland.
Andrew Murrison also raised concerns about the lack of a current cancer strategy.
Earlier this week, Mr Murrison told BBC News NI the disparity in health services compared to the rest of the UK was "frankly unacceptable".
Northern Ireland's cancer strategy has not been updated since 2008.
It is the only region in the UK that does not have an updated strategy in place.
The Northern Ireland Affairs Committee is a Westminster body which regularly investigates Northern Ireland matters.
It met at Stormont this week while it is holding an inquiry into health funding.
'Lagging behind'
Mr Murrison said he had written to permanent health secretary, Richard Pengelly, questioning the strategy, screening and provision of cancer services.
"Northern Ireland is lagging behind the rest of the UK in its cancer screening and care," he said.
"Northern Ireland is the only region in the UK that does not carry out the recommended FIT screenings for bowel cancer and HPV tests for cervical cancer.
"Additionally, patients in Northern Ireland face severe delays in receiving diagnosis and treatment, and some patients are expected to finance the up-front costs of their own travel to England for specialist treatment."
He added: "In the absence of a devolved assembly, there is a risk that Northern Ireland's now out-of-date cancer strategy will not be comprehensively updated.
"Given that cancer is the leading cause of death in Northern Ireland, it is vital that the department acknowledges these shortfalls in cancer care and develops a strategy for addressing them."