East Belfast factory wins £93m missile order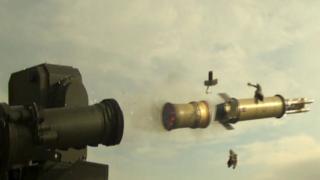 An east Belfast factory has won a £93m order for missiles from the Ministry of Defence.
French-owned Thales, a defence and aerospace firm, said the deal would protect the jobs of 100 workers at its Northern Ireland operation.
The equipment will be used by the Army and Royal Marines.
Defence Minister Stuart Andrew said the order "demonstrates the ingenuity and skill of Northern Irish industry".
He was in Belfast for the announcement.
He defended the UK arms sector's dealings with Saudi Arabia, which have been raised in the wake of the murder of journalist Jamal Khashoggi at the kingdom's Istanbul consulate.
The killing led to International Trade Secretary Liam Fox pulling out of a major investment conference in Saudi Arabia.
"We have to remember Saudi Arabia is an important strategic ally," Mr Andrew said.
"We do a lot of exports, not just defence, so we will maintain those close relationships because as a close partner we can also raise difficult questions when we need to.
"We want Saudi Arabia to work with Turkish authorities and those who committed the murder brought to justice."
The Northern Ireland division of Thales, which employs about 500 people, was originally Shorts Missile Defence until it was bought over in 2001.
The company said the factory was not likely to be impacted by Brexit.
The vast majority of its work involves deals in either the UK or non-EU countries.
"We have been very successful in the likes of south-east Asia so we are protected in many respects from what happens in Europe," said Thales UK managing director, Philip McBride.