Newry car park almost empty as cars park on road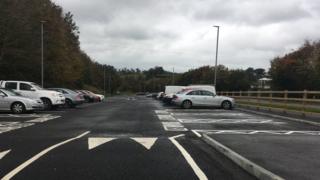 A new £220,000 park and share facility outside Newry has been lying nearly empty, with dozens of cars instead continuing to park on the side of the road closer to the nearest bus stop.
The facility at Sheepbridge is adjacent to the A1 Belfast Road.
It was opened during the summer by the Department for Infrastructure (DfI).
It offers 106 spaces and was built a short distance from an existing, oversubscribed facility which is aimed at Belfast-bound commuters.
This brought the total number of park and share spaces at Sheepbridge to 169.
But when the BBC visited the site last week there were just 15 cars parked in the new facility, with 39 parked along the road outside the original oversubscribed car park.
This, some commuters have argued, is because the 1km distance between the new carpark and the nearest bus stop is too great.
The new facility has been built to accommodate buses, but to date no services have been provided.
In a statement Translink said it had not received any new approaches to service the site by bus.
"However, we continue to work closely with the Department for Infrastructure on the provision of future park and ride facilities along the A1 corridor," its statement read.
The department said it was aware of the issue relating to cars parking on the main road.
"The new site is close to the existing one and we are aware of concerns regarding some vehicles continuing to park on the road and footway at the existing site whilst spaces remain in the new one," it said.
"PSNI have issued advice leaflets to motorists parking on the footway and DfI Roads will complete the project with a new footway link between the two sites in the coming weeks.
"The new site has been designed so it can accommodate bus turning should that be required at a future date."
Local SDLP Councillor Declan McAteer said he believes a survey is needed to establish if bus access is the reason why commuters are not using the new car park.
"I would think that Translink would be quite open to discussions. It should be explored and if that requires the council to initiate it then they should," he said.