Westminster bill a 'gentle step' not giant leap for NI's laws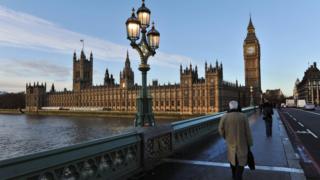 Even before MPs voted for Stella Creasy and Conor McGinn's amendment to the latest Northern Ireland bill, questions were being asked about what difference, if any, the move would make in practice.
The Conservative MP Simon Hoare, for example, criticised the amendment for - in his words - raising "a huge amount of hope" but not delivering on that hope.
He told the Commons he was "firmly convinced that expectations have been artificially inflated".
His party colleague Anna Soubry had just made an impassioned speech about a recent trip to Belfast, during which she had met a woman left with no choice but to proceed with a pregnancy for 11 weeks after a diagnosis of foetal abnormality.
She told MPs in graphic terms about how the woman had given birth "to a baby girl who was decomposing".
But, when asked by Simon Hoare to justify her backing for the amendment, Ms Soubry defined it as "the gentlest step forward so that the secretary of state and her good officials can monitor human rights and see what is happening".
Modest proposal
"We are talking about ​merely looking at the situation, monitoring it and helping the secretary of state to fulfil her obligations: no false hopes for anyone," she added.
Stella Creasy and Conor McGinn had originally put forward an amendment that would have repealed the Victorian law criminalising abortion in Northern Ireland and a statutory order that bans marriage between people of the same sex.
But that radical move was withdrawn, leaving the far more modest proposal which passed the Commons.
So what does that amendment do?
It requires Karen Bradley to provide guidance to senior officers at Stormont departments specifying how they should exercise their functions in relation to what it terms "the incompatibility of the human rights of the people" with the continued enforcement of the 1861 law, which makes abortion illegal in Northern Ireland.
It also requires similar guidance in relation to a 1978 law, which declares a marriage in Northern Ireland void if "the parties are not respectively male and female".
The abortion guidance is likely to take the Northern Ireland Office into the territory covered by the Supreme Court in June.
Then, a majority of Supreme Court judges agreed that Northern Ireland's abortion law was incompatible with human rights.
But the case was lost because they decided the Northern Ireland Human Rights Commission didn't have a right to bring it in the first place.
Balancing act
Recently, Sarah Ewart, who travelled to England to have a termination after getting a fatal foetal abnormality diagnosis, won the right to start the case all over again.
What will Karen Bradley tell senior officers at Stormont about this they don't know already?
The secretary of state is a member of a government that depends on the anti-abortion DUP for its survival and she has to perform a careful balancing act in her efforts to get some kind of movement in the deadlock at Stormont.
During the debate on the amendment, she declared that she had "considerable sympathy" with what Ms Creasy and Mr McGinn were trying to achieve.
But, Mrs Bradley argued their proposal was "flawed" and would put civil servants in "an impossible situation".
One case to watch could be Judicial Review 76, which is due before the courts early next month.
Conservative guidance
In this case, a mother is challenging a decision to prosecute her for obtaining abortion pills for her 15-year-old daughter.
Will the court rule there's a disparity between the Victorian law under which the prosecution is being taken and human rights requirements?
Even if the secretary of state was more enthusiastic about the new task the House of Commons has given her, it's unlikely her officials will issue any guidance in time to influence the next JR76 hearing.
The Creasy-McGinn amendment may go down as an important moment during which MPs signalled their growing opposition to the regulatory divergence between Northern Ireland and the rest of the UK when it comes to social and moral issues.
But, given Karen Bradley's stated opposition to the proposal, it wouldn't be surprising if any guidance her officials eventually produce turns out to be conservative with both a big and a small C.