NI Paper Review: Airbnb, spads and the Irish Famine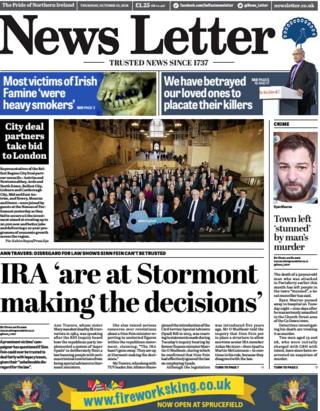 Airbnb, Spads and the Irish Famine are all across Thursday's front pages.
The Belfast Telegraph leads with an examination of the role of special advisers, as called for by Northern Ireland's top civil servant David Sterling.
Mr Sterling is due to give evidence at the inquiry into the botched green energy scheme on Thursday.
Speaking ahead of his appearance, Stormont's most senior official said he believes "there is a strong case for a review of current arrangements".
On Wednesday, David Sterling acknowledged that "multiple failings" have occurred in the development and delivery of government policy and lessons must be learnt.
The Newsletter headlines on a victims' campaigner's claims that the IRA "are at Stormont making the decisions".
Ann Travers questioned whether Sinn Fein could ever be trusted to deal fairly with legacy issues, given their "unbelievable disregard for the law".
She was speaking at the RHI Inquiry, which heard that Sinn Féin has implemented a system of "super spads" to deliberately ignore a law banning people with criminal convictions from being special advisors to Stormont ministers.
Ms Travers also voiced concerns over news that a Sinn Féin minister reporting to unelected figures within the republican movement.
"The IRA hasn't gone away. They are up at Stormont making the decisions," she said.
'Diamond of a guy'
The Belfast Telegraph also leads with the death of 32-year-old Ryan Macrae who was attacked at a County Down pub more than a week ago.
Mr Macrae sustained serious injuries after being punched and kicked outside of the Fiddler's Green in Portaferry.
Known as a "diamond of a guy" by friends, he spent nine days fighting for his life in the Royal Victoria Hospital before his death on Tuesday evening.
Famine victims
Inside the Newsletter, new evidence uncovered by Queen's University suggests that most adult famine victims in Ireland were heavy smokers.
The claim is a based on a study carried out on the teeth of 363 adults who were believed to have died in the Kilkenny Union Workhouse between 1847 and 1851.
Their remains were discovered in an unmarked mass burial ground by archaeologists in 2005.
The findings found most victims had poor oral health, with more than 80% of remains showing tooth decay.
There were also signs of pipe-smoking marks on their teeth.
Pope visit mockers
The Irish News headlines on two DUP MLAs who allegedly mocked the Ulster Unionist's Robbie Butler for attending a civic reception for Pope Francis.
Former finance minister Mervyn Storey is said to have challenged Mr Butler in the corridors of Stormont and labelled the pontiff "the Antichrist".
In a separate incident, South Belfast MLA Christopher Stalford blessed himself as he passed Mr Butler in parliament buildings.
The DUP were widely criticised for snubbing the invitation from Ireland's prime minister (taoiseach) Leo Varadkar to attend a reception for Pope Francis at Dublin Castle.
Stormont's other main parties all sent representatives but DUP leader Arlene Foster was away with family over the weekend of the papal visit.
Airbnb ban
The Belfast Telegraph carried news of an effective ban on Airbnb in the Republic of Ireland from next June.
Landlords will be banned from renting properties on a short-term basis in Dublin and other areas of high housing demand.
Professional landlords will have to secure commercial planning permission to lease properties on a short-term basis.
Measures will be announced by Irish housing minister Eoghan Murphy later on Thursday.