NI Civil service boss apologises over RHI 'failings'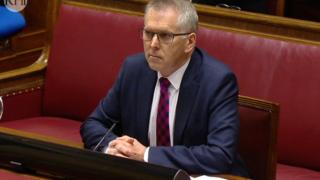 The head of Northern Ireland's civil service has apologised for "multiple failings" by Stormont in NI's flawed green energy scheme.
David Sterling was appearing at the Renewable Heat Incentive (RHI) inquiry.
The scheme was set up in 2012 to boost uptake of eco-friendly heat systems, but huge subsidies led to a £490m bill for Northern Ireland taxpayers.
When problems with RHI emerged in 2015, Mr Sterling was working in Stormont's finance department.
He was appointed interim head of the civil service in June 2017.
On Thursday, he offered a "profound and unequivocal" apology for the mistakes made, and promised that lessons would be learned to prevent it from ever happening again.
He said any recommendations the inquiry makes will be implemented quickly and fairly.
But the inquiry's chair Sir Patrick Coghlin pointed out that two previous enterprise projects had resulted in similar flaws and that the civil service had a lot of convincing to do.
'Convincing to do'
He said the panel needed to be reassured that "third time round" there would be effective learning.
Mr Sterling said he understood that the public might be "cynical and sceptical" about his apology, but the civil service was "serious" about ensuring there was no repeat.
He said the civil service was already changing in response to what it had learned.
But he added that it was unfair to judge all 23,000 civil servants on the problems generated by one badly handled scheme.
He also said he was sorry to his fellow civil servants for the damage done to their reputation by the scandal.
The change process is being led by the top civil servant in the finance department, Sue Grey, a former Whitehall official with experience in investigating allegations of improper ethics in public life.
Mr Sterling said the Information Commissioner had also been asked for a set of principles to which civil servants should comply, and they were now being circulated to all staff.
He was asked what the most surprising piece of evidence he had heard.
Mr Sterling said it was the amount of knowledge around about the abuse of the scheme which officials had not been alerted to.
But the panel pointed out that they had been told.
'Regret over minutes claim'
Inquiry panellist Keith MacLean said officials had been told about allegations of abuse but had failed to listen.
He said it seemed some people had "their eyes closed and their ears blocked".
Mr Sterling also said he "regrets" telling the inquiry in March that minutes of departmental meetings were frequently not taken in a bid to frustrate Freedom of Information requests, because the two largest political parties - the DUP and Sinn Féin - were sensitive to criticism.
Inquiry counsel David Scoffield said the absence of record-keeping is one of the public's "key concerns" as a result of what the inquiry has uncovered.
But the civil service boss said it was more likely that the bad practice originated due to a concern that "sensitive issues being discussed" by ministers might "find their way into the public domain, whether by leak or other disclosure".
Also on Thursday, Mr Sterling said he did not try to blame a colleague for problems surrounding a green energy scheme, in order to get the top job.
In 2016, when the scandal became public knowledge, he was the finance department's permanent secretary.
His department, and the enterprise department - which set up the scheme - were involved in plans to cut the ill-fated scheme's costs.
Mr Sterling said the suggestion that he had tried to blame the enterprise department's top civil servant, Andrew McCormick, for the mess in 2016 was "grossly unfair".
The following year, both were the only shortlisted candidates for the vacant position of head of the civil service.
Mr Sterling was appointed in June 2017 on an interim basis.
'Grossly unfair'
He rejected a suggestion by former DUP special adviser Timothy Cairns, that in January 2016 moves were afoot to blame the enterprise department, and that there might have been a "connection" to the appointment process.
Mr Sterling said he had known Mr McCormick for 18 years and considered him a "friend and a colleague".
"I would absolutely refute any suggestion that I would do anything to try and pin the blame on him particularly to try and gain some personal advantage in a competition which hadn't even launched.
"There wasn't even a vacancy at that stage."
Mr Sterling said when he wrote to Mr McCormick in January 2016 seeking answers to what had gone wrong with the scheme, he was conscious that he (Mr Sterling) had been the permanent secretary in enterprise when the scheme was designed and implemented.
Because of that, he said he was aware he "bore some responsibility" for what had happened.
He said the letter that had been written would have been sent by any head of finance in similar circumstances.
He said any suggestion that he'd done it to gain an advantage was "grossly unfair".
"It's just not in my nature to do something like that," he said.
Also on Thursday, Mr Sterling said he does not recall a DUP special adviser telling him he had a relative on a controversial green energy scheme.
At that point, the department was being led by DUP minister Arlene Foster, whose special adviser was Andrew Crawford.
The inquiry has discovered that three of Mr Crawford's relatives were claimants and had 11 boilers between them.
Mr Crawford, in his evidence, said he had informed Mr Sterling in 2015 that his brother was on the scheme.
'No formal system'
But the civil service boss said he had no memory of any such conversation, and that he believed he would have recalled it.
He said it would have been prudent for Mr Crawford to record his family connection to the scheme as a potential conflict of interest.
There was no form for him to do that at the time, but Mr Sterling said it would have been possible to record it in some fashion.
He told the inquiry there is still no formal system in place for special advisers to record a conflict of interest.
But Sir Patrick said: "You're still working on this three years later?"
Mr Sterling said it had been included in work going on between the parties during talks processes last year, as part of a paper called transparency, governance and accountability.
"We're working on the basis that seeking agreement with incoming ministers would see such an agreement in place," he added.
Mr Sterling also denied claims he had ever had a row with Mr Crawford and accused him of keeping the scheme open for the benefit of his family.
The inquiry was also told Mr Sterling was not aware that Mr Crawford was making suggestions to a DUP colleague in the enterprise department about plans to introduce cost controls to the scheme in summer 2015.
The colleague was another special adviser, Timothy Cairns.
The enterprise department had set up the scheme, and Mr Cairns was involved in discussions with officials to get its budget under control.
In an email exchange, Mr Crawford made a suggestion that the amount of hours on a higher tariff be doubled and bigger boilers be eligible, so that the poultry industry did not lose out from the scheme changes.
'Throttle the costs'
Poultry farmers made up the majority of claimants on the scheme.
Inquiry panellist Keith MacLean said the effect of the suggestion would have been to undermine plans to "throttle the costs".
The idea was quickly rejected by officials because of its cost implications.
Mr Sterling said he was not aware of the contact and he should have been told, as should Mrs Foster have been.
Sir Patrick said it was "worrying" that neither Mr Sterling, nor the permanent secretary in the enterprise department, Andrew McCormick, were aware of what was taking place.
"Where's the control that flows from the fact that spads (special advisers) are paid public money?" Sir Patrick asked.
Mr Sterling said if special advisers did not inform officials about what they were doing, it was difficult for civil servants to know.
Later, Mr Sterling admitted he knew a DUP adviser removed a reference to the poultry industry being the root cause of the RHI spike from a key government paper.
The term that Andrew Crawford removed was contained in a draft paper to be sent to the then Office of the First and Deputy First Minister (OFMDFM), seeking the ultimate closure of the scheme in February 2016.
The paper referred to the "wholesale uptake" of RHI boilers by poultry farmers and how it had contributed in large part to the pressure on the budget.
Mr Crawford has told the inquiry he accepts he should not have taken it out.
'Let it go'
He said he was concerned about the inference it created and because he believed there were also other industries that had contributed to the huge numbers getting into the scheme.
The spike in applications - about 800 - did the most damage to the public purse in the context of the RHI budget.
Mr Sterling said he did not think it was worth "having a major set-to" with the special adviser to put the reference back in.
It had been put in the paper by the enterprise department, which had set up the scheme.
The finance department had then removed it, on the basis of advice from Mr Crawford.
'Intense period'
Mr Sterling said he was not aware at the time of the significance of the poultry reference and that if Mr Crawford wanted it removed, to "let it go".
He said his priority was ensuring changes were agreed by the executive in order to get the scheme closed.
He admitted with hindsight, it would have been sensible to explore the issue before allowing the removal to go ahead.
Sir Patrick put it to him: "Can we take it he removed it because of the political aspect of being a Spad or because of his personal family connections, you don't remember any reasoning?"
Mr Sterling replied no, that it was an intense period of time and there was a lot going on.
In his written evidence to the inquiry, published on Wednesday, Mr Sterling said there should be a review of the role of Stormont special advisers before any return to devolution.
The inquiry's oral hearings are due to end on Friday, after 111 days of evidence heard by the panel.
Its final witness will be Sir Malcolm McKibbin, David Sterling's predecessor who was head of the NI civil service for seven years.