NI's first prison sensory garden inspires inmates' new career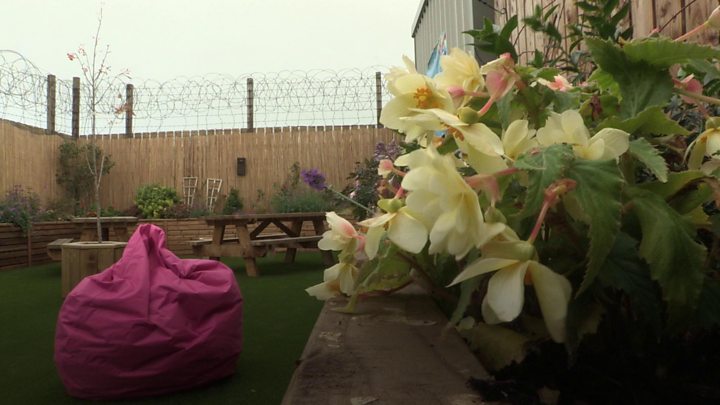 Northern Ireland's first prison sensory garden is tackling mental health issues among inmates.
The idea came from a senior prison officer who wanted to transform a "depressing" space in the Care and Supervision unit (CSU) at Magilligan prison in County Londonderry.
Prisoners and a college tutor have now turned the vision into a reality.
And now two prisoners are planning to launch a horticulture business upon release with skills learned in custody.
"It'll keep us out of trouble," joked one inmate, who is excited to start his new venture in the coming months.
"I enjoy working outside, it keeps your head straight," he told BBC News NI.
"Without the skills I've learned in jail, I'd never have thought of this as a career, but now we both can't wait to get started."
Both prisoners say their mental health has improved significantly since the garden opened a few months ago.
"It's not great for your head being locked up all the time, but this garden helps put your mind at ease," one said.
"It's not the same old concrete or tarmac and wire, it's different."
The other prisoner added: "This garden has made a massive difference to not only me, but so many of the inmates in here.
"When we get out and start our business, we will do the nursery end of things where we grow our own things and supply to retail, and the designing and planting of gardens for elderly people and families, to suit their needs.
"We're getting help with our business plan so that when we get out, we can apply for funding."
Stuart Cameron has been a prison officer for 25 years and worked in the CSU.
In the CSU, prisoners are in isolation from the main cell blocks, often for up to 28 days.
Along with North West Regional College horticulture tutor Sharon Kirk, he developed the sensory garden.
Prisoners must be risk assessed before they can visit.
Mental health and addiction
"For 23 hours a day, many of them are locked in their cells and the only real interaction they have is usually with a member of staff or shouting through the cell door to each other," the senior officer told BBC News NI.
"But you see a difference in the prisoners who come out here. It boosts their mental health and their personality in general.
"A high number of prisoners in CSU will have mental health problems and addictions to things like prescription and non-prescription drugs and gambling.
"The therapy garden gives them a green space where they can associate with other individuals, think and sometimes talk to third party agencies."
"I have a level one horticulture class who started last week and within three days, one of the more reluctant class members was saying how he felt it was so much better for his head and he recommended it to another prisoner," added Sharon.
"You see people grow in confidence, their mood changes, they suddenly become optimistic about the future and when they have a skill and see that it can be used positively when they go out, that makes the world of difference to someone in here.
"When you learn to look after a garden, it's a small piece of life. It teaches you patience and how you have to work with the conditions life throws at you."
'We don't want it to be all about being locked up'
Magilligan's deputy governor Dave Bowden has welcomed the new prison facility.
"There are a lot of people in prison, particularly in the CSU, who have poor mental health, addictions, a history of self-harm or attempted suicide and we are trying to address those issues. This is part of that process," he said.
"We don't want it to be all about being locked up or the attrition of being in a cell, we want there to be a place where they can come to get outside, reflect and chill."