Historical Rosetta Cottages in south Belfast restored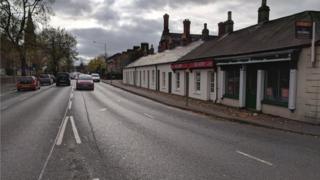 The Rosetta Cottages in south Belfast have been given a new lease of life.
Known as Saddler's Row, some of the residents who lived there would have made and repaired harnesses.
But, despite having a Grade B building listing, the cottages laid vacant for decades.
Clanmil Housing Association, which runs social housing across Northern Ireland, has now transformed the six cottages into two modern, energy-efficient homes.
The cottages, which date back to the early 1800s, were situated on the outskirts of Belfast on a main route into the city from south Down.
They became known as Saddler's Row because artisans moved in and made their living making and repairing the harnesses for farmers who were bringing their cattle into the market from Ballynahinch and Crossgar.
Clanmil Housing Association and Hearth Heritage Division began the restorations last summer.
Siobhan Brown of the Clanmil Housing Association said the renovations were done sensitively and to a "high spec".
"The original features went back in. We also made the building a sustainable one using as much green material as we could," she said.
Clanmil spent £312,000 on renovating the two homes, just under half of which (£147,000) came from the Department for Communities.
The original cost of the purchase was covered by the Architectural Heritage Fund.
Ms Brown said that the cost was worth it because the buildings are of architectural significance and important to the community.