RHI inquiry: Call for review of special adviser role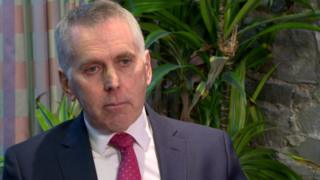 There should be a review of the role of Stormont's special advisers before any return to devolution, the head of NI's civil service has said.
David Sterling's witness statements to the Renewable Heat Incentive (RHI) inquiry were published on Wednesday.
He is due to give evidence again on Thursday.
The RHI scheme was set up in 2012 to encourage uptake of eco-friendly heat systems, but overgenerous subsidies left NI taxpayers with a £490m bill.
The extent of the overspend exploded into public view in late 2016, leading to a political fallout between the two main parties - the DUP and Sinn Féin - which saw almost a decade of devolved government collapse in January 2017.
Subsequent elections and talks processes have failed to reach a breakthrough.
Mr Sterling has led the civil service at Stormont since June 2017.
'Strong case'
He was previously the permanent secretary in the enterprise and finance departments.
The inquiry has spent a lot of time looking at the relationship between ministers and their unelected special advisers, and how much power advisers wielded over decision making.
Ultimately policy decisions were meant to be taken by ministers, and advisers were there to give advice - but the inquiry has heard claims that DUP advisers took many decisions during devolution.
Mr Sterling said that in response to what has emerged at the inquiry, he believes there is a "strong case" for a review of the role of advisers before any return to devolution.
He said he did not want to pre-empt the inquiry's findings, but that it should be made clear to ministers that it is their role to manage special advisers, and that they are "fully responsible and accountable for them".
Mr Sterling said he did not believe a new code for advisers was needed, but added that the civil service is currently looking at the current codes relating to the relationships between ministers, civil servants and advisers.
He said the civil service would be in a position to make recommendations to any future ministers.
The inquiry has also heard evidence that has not reflected well on the civil service.
It seemed civil servants were sometimes out of their depth when it came to complex issues like the RHI scheme, and it has been claimed some of them accepted assurances at face value.
'Unfair'
Mr Sterling said he accepted "multiple mistakes" had been made and that he would ensure nothing similar ever happened again.
But he added that it would be "unfair" to judge all 23,000 civil servants in Northern Ireland by the failings of one scheme, "no matter how significant and disappointing" the failings had been.
The last time Mr Sterling gave evidence, he revealed that sometimes minutes had not been taken at meetings in a bid to frustrate Freedom of Information requests.
On Thursday, Andrew McCormick, the former permanent secretary at the enterprise department when problems with the scheme emerged, will also return to finish his evidence to the inquiry.
The inquiry's oral hearings are due to end on Friday, after 111 days of evidence heard by the panel.