Stephen Carson: Man denies south Belfast murder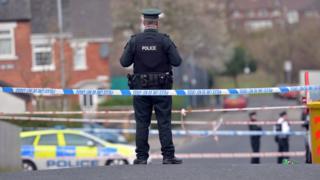 One of three cousins charged in connection with the murder of a man in south Belfast has denied involvement in the shotgun killing.
Stephen Carson, 28, was killed in his house in Walmer Street, Belfast, in February 2016.
On Wednesday, David 'Dee' Smith took to the stand at Belfast Crown Court.
The 34-year-old, from west Belfast, claimed he was "the victim of something being fabricated".
Mr Smith rejected suggestions he was one of two men who entered Mr Carson's home in the Ormeau area of Belfast on the evening of the killing.
He and 39-year-old Michael 'Spud' Lawrence Smith, both with addresses in Monagh Drive, have been charged with, and deny, murdering Mr Carson, who died after he was shot in his downstairs bathroom.
The jury had previously heard the Crown's case that both men entered the home, and while Michael Smith shot Mr Carson, David Smith was the "second man" at the scene, who stayed in the living room.
David Smith claimed that on the evening in question, he met Michael Smith on the Springfield Road to repay a debt.
He told the court they then went to a friend's house in nearby Cavendish Street, that he became involved in a fight.
When asked about this fight, David Smith claimed he and the other man were both covered in blood. He said that after arguing with Michael Smith, he "stormed off" and got a lift back to his flat.
Describing his flat as being "like a half-way house, people coming and going", David Smith said: "I went in and changed [because] there was blood all over me."
After running a bath and changing his clothes, the defendant said he left again at around 23:00 BST as he and others in the flat had run out of alcohol.
He claimed that after getting alcohol from a local bar, he "headed back up to the flat with a carry-out... and resumed drinking".
When asked if he went out again that night, he replied "no".
David Smith was arrested the following day.
When asked why he chose not to answer police questions, and why his court appearance was the first time he had provided an account of his movements, he said he accepted his solicitor's advice to remain silent, but added: "I was coming off the drink. I had been drinking for three days previous and I wasn't feeling the best."
Under cross-examination from the Crown, David Smith was accused of "crafting a narrative" to fit what he had already seen and heard in the trial.
His reason for changing his clothes on the evening of the murder was also branded a "convenient excuse".
It was then pointed out to David Smith that the murder weapon was found in his cousin's wardrobe, and that mobile phone analysis suggested another cousin's phone was in the Ormeau area both before and after the shooting.
When asked if this shocked him, David Smith said: "I was more shocked being charged with murder. I wasn't thinking about firearms or anything."
The jury was told they no longer had to consider the murder charge against his co-accused cousin Frances Smith, 42, from Glenmurray Court in Belfast.
Francis Smith has been charged with the separate offence of assisting offenders on dates between 25 and 27 February, 2016 - namely knowing a murder had been committed and allowing his premises to be used for the storing of firearms and ammunition used in the course of murder - and also possessing a handgun without a certificate.
He denies the charges.