RHI inquiry: 'Unbelievable' that scheme warnings not passed on
By Jayne McCormack
BBC News NI Political Reporter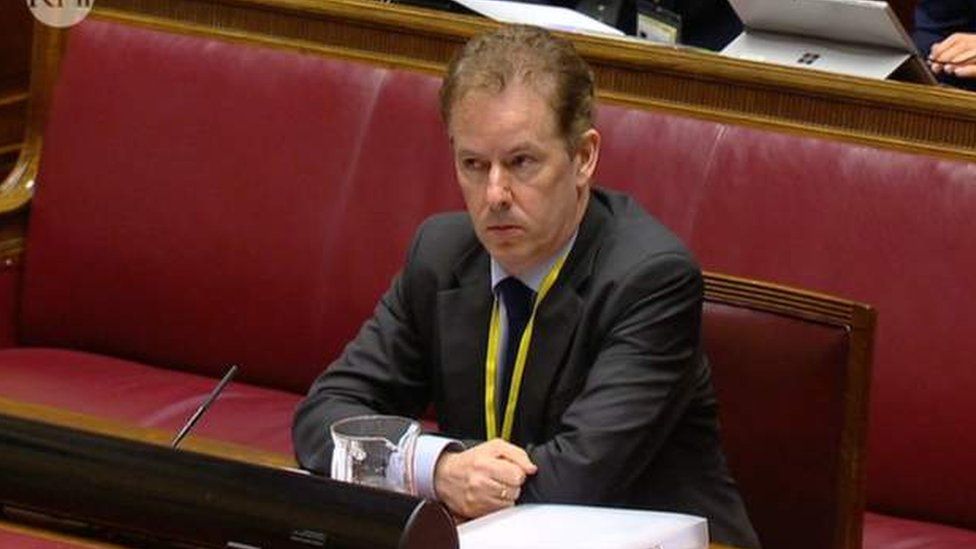 The body that regulated NI's green energy scheme failed to pass on multiple warnings about the potential for the initiative to be exploited, it has emerged.
Dermot Nolan was appearing at Renewable Heat Incentive (RHI) inquiry.
He is chief executive of the Office of Gas and Electricity Markets (Ofgem).
The RHI scheme was set up in 2012 to encourage uptake of eco-friendly heat systems, but overgenerous subsidies left NI taxpayers with a £490m bill.
Its failings led to the establishment of a public inquiry in January 2017.
Ofgem's main function is as a regulator, but a sub-division administers energy initiatives, as it did with the Northern Ireland RHI scheme.
But it did not consider it part of its job to alert Stormont's enterprise department - which had created the RHI scheme - about the potential for abuse to occur.
Inquiry panellist Dame Una O'Brien described it as "unbelievable" that Ofgem had been aware of the potential risks, but had not told Stormont civil servants.
The inquiry heard that in February 2014, an official from Ofgem, Jacqueline Balian, was assessing the Great Britain RHI scheme.
At that point, only 110 applications had been approved on the NI scheme.
Ms Balian reported back what she had heard "on the ground" at various conferences to Ofgem; that the scheme was good - but because it was so good, some beneficiaries from the farming community were actually "giving up farming sheep and raking in money from RHI".
She also flagged the scheme's critical flaw: claimants could install multiple small boilers to generate more heat, and by extension more profit.
Ofgem did not pass that information to Stormont's enterprise department until a much later date.
The NI scheme contained the same flaw and did not contain tiered tariffs, meaning incredibly lucrative subsidies could be earned by using heat in an inefficient way.
Dame Una expressed incredulity and said: "Here we are in the last week of the inquiry, and we can still be shocked."
She said it was clear that knowledge was "knocking around" and there was time for it to have been shared with civil servants in Northern Ireland, to alert them so that changes could have been made sooner to the flawed initiative in NI.
Mr Nolan, who has been the chief executive of Ofgem since 2014, admitted the body had failed to pass information on in a "consistent fashion".
Inquiry chair Sir Patrick Coghlin remarked that the emails were "scare stuff" that should have been given more attention by the energy regulator.
Also on Wednesday, Mr Nolan admitted Ofgem had failed by not carrying out a risk assessment of the NI RHI scheme.
It was meant to happen during the development of the scheme, before it opened in November 2012.
Its purpose was to pick up on anything that could pose a danger to the proper running of the initiative.
Had it been done, key flaws - including the absence of cost controls and the potential for the scheme to be manipulated - could have been spotted before any public money was spent.
The lack of tiered tariffs and potential for exploitation meant claimants could earn lucrative subsidies by burning more fuel.
In some cases, as the inquiry has heard on a number of occasions, it was claimed beneficiaries were installing multiple small boilers to heat "empty sheds".
Asked if Ofgem got it wrong by not carrying out the risk assessment, Mr Nolan said: "I find it hard to accept anything else - Ofgem did get it wrong."
He said a risk assessment clearly should have resulted in those problems being exposed and discussed with the Stormont department that was responsible for the scheme.
"I find it difficult to explain why it didn't happen," he added.
Inquiry counsel Joe Aiken described it as a "lost opportunity", but said even if Ofgem had done the assessment, there was "no guarantee in any form that the department would have acted even if you'd provided it".
Mr Nolan said he agreed with that.
Emails were circulated within Ofgem in summer 2012 about the RHI scheme's potential for encouraging heat to be wasted and how cost controls could be used to address that.
Mr Nolan said that risk should have been flagged with Stormont's enterprise department.
But he added that it seemed some officials had already been warned about some of the potential problems with the scheme, but they were "determined to go ahead come what may".
Later, the inquiry heard that as of March 2015, Ofgem had information that showed some claimants were exploiting the scheme and installing multiple boilers.
As part of its administration of the scheme it held claimants' details including names and addresses - but it did not share them with Stormont's enterprise department until a much later date.
Mr Aiken said of 516 accreditations to the scheme by March 2015, 330 had been recorded in the same postcode area.
He said of those 330 applications, there were 110 cases of multiple boilers appearing at the same code, with "apparently the same owner".
Mr Aiken described it as the "grand reveal" to demonstrate the extent of scheme manipulation.
He put it to Mr Nolan that if Ofgem had "understood the gravity" of what it was looking at, it would have been "quite a shock to the system" to both the regulator and the enterprise department.
Mr Nolan said he absolutely agreed with that.
On Wednesday afternoon, the Ofgem boss told the inquiry it had been a significant failure on the part of the body that it shared more information about the RHI scheme with the energy department in Great Britain than with Stormont officials.
In 2012, before the NI RHI scheme came into effect, a number of claims had been made about the possibility for the Great Britain scheme to be exploited by claimants.
But while Ofgem passed on the concerns to Whitehall's energy department, Mr Nolan said the information was not shared in the same way with Northern Ireland's enterprise department, which was working on its version of the RHI scheme.
"That was a failure - a significant failure," he said.
Inquiry panellist Dame Una O'Brien said Ofgem had missed yet another opportunity.
Given there were officials in Ofgem who had realised the scheme's flaws, but it was not passed on, there was a "big lesson" to learn from that, she added.
The inquiry's oral hearings are due to end on Friday, after 111 days of evidence heard by the panel.