Robbie Butler: Donaldson wants facts on 'papal slurs' against UUP MLA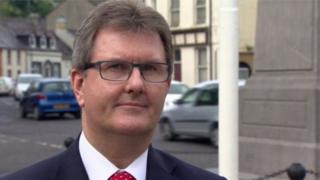 DUP MP Sir Jeffrey Donaldson has said he wants to get to the bottom of allegations that DUP politicians ridiculed an Ulster Unionist MLA for attending the papal visit in Dublin.
The Irish News reported that the UUP's Robbie Butler was left stunned after being allegedly mocked by two DUP MLAs.
Mr Butler told the paper that one DUP MLA ridiculed him by blessing himself.
He said another MLA pointed a finger at him and said he did the wrong thing by travelling to Dublin.
Mr Butler claimed the DUP MLA said: "Don't you know he is the antichrist?"
Sir Jeffrey said he knew Mr Butler well and had "a high regard for him".
He added that he took Mr Butler's word that the incident did happen.
The MP said he would be happy to speak to Mr Butler and if he wanted to pass on the details, he would then look at it.
Sir Jeffrey told the BBC: "I want to get the details of what was said".
The DUP MP told BBC Radio Ulster's Talkback programme that if the story was true, "that kind of behaviour is not acceptable ".
He added that he wanted to "get the full facts ".