Health service disparity in NI shocks MP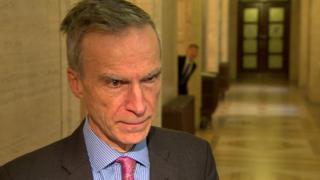 The chair of the Commons NI Affairs Committee said he is shocked at the disparity in health services compared to the rest of the UK.
Andrew Murrison said it was "frankly unacceptable", made worse by the absence of ministers at Stormont.
He said the lack of an executive was clearly impacting patients accessing specialist cancer drugs.
The committee was in Belfast to hear from patients with experience of mental health and cancer services.
"There is a clear disparity between the quality of service that service users can expect in Northern Ireland and that which applies in the rest of the United kingdom," Mr Murrison said.
The Conservative MP said people like Melanie Kennedy who had fought to access drugs from outside of Northern Ireland showed great resilience.
Members of the committee also asked if some people had got their priorities right when they were putting the implementation of an Irish Language Act before the priorities of the health service.
Mr Murrison told BBC News NI that there was "really very little that is more important than people getting the healthcare they need when they need it most".
"I think it is truly shocking that people in Northern Ireland are not getting what they need, particularly in key areas like mental health and cancer services," he said.