Murderer Fred McClenaghan dies in hospital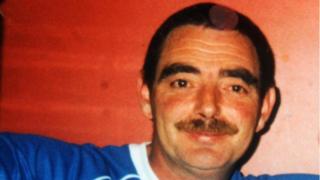 A man who murdered his ex-partner at her workplace in Portstewart, County Londonderry, has died.
Fred McClenaghan, who was handed a 13-year sentence last year for the murder of Marion Millican, died in hospital on Sunday.
It is understood the 57-year-old died of natural causes.
In September 2017, McClenaghan pleaded guilty to the 51-year-old mother-of-four's murder at a laundrette in March 2011.
It is understood McClenaghan was transferred to hospital earlier in the week.
Mrs Millican had previously been in a relationship with McClenaghan.
At the murder trial, the court heard their relationship was characterised by violence.
Following the sentencing, the family said they were "satisfied" with the sentence, and were glad the case was over.
McClenaghan made a U-turn admission to murder during his third trial.
He had previously only admitted manslaughter but was twice convicted and jailed for murder.
However, both of those convictions were overturned on appeal.
The Northern Ireland Prison Service said that the PSNI, Coroner and Prisoner Ombudsman had been informed.