Brexit: NI farmers need to know policy, says report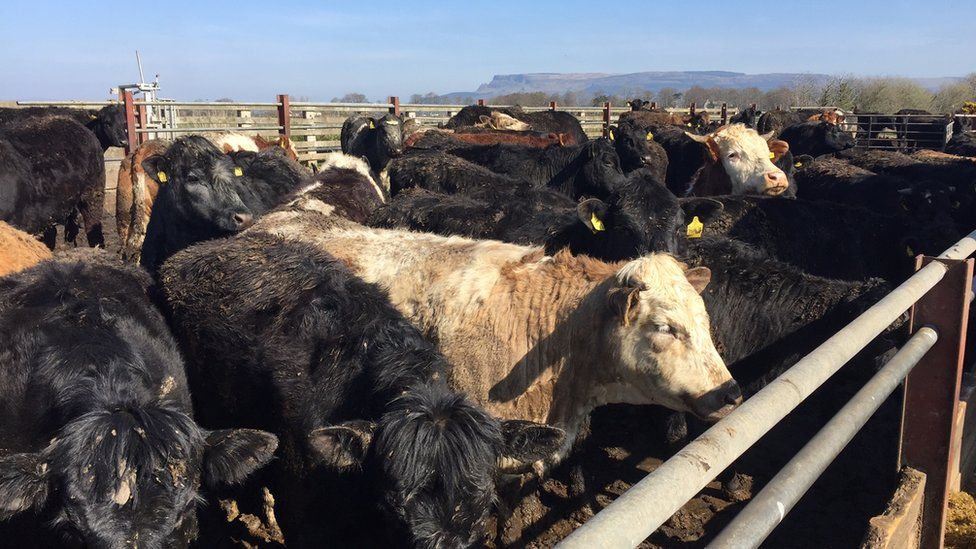 Westminster must explain how policy for farmers in NI will be devised with no executive and in advance of Brexit, a parliamentary committee has said.
The Northern Ireland Affairs Committee (NIAC) examined the future of agriculture post Brexit in the context of the lack of devolved government.
Andrew Murrison, NIAC chair, said Brexit brought both "opportunities and threats to farmers" in Northern Ireland.
"Agri-food in Northern Ireland has much to inspire optimism," he said.
"However, we are concerned that its uniqueness, challenges and vulnerabilities have not been fully hoisted in by ministers.
"We heard evidence about Department for Environment, Food and Rural Affairs' (Defra) lack of engagement with Northern Ireland's civil service and with the sector.
"We were left with the impression of drift and delay at a critical time and an over-reliance on the much hoped for restoration of an executive."
Many farmers in Northern Ireland rely heavily on support payments for the bulk of their income.
Provided there is a Brexit withdrawal agreement, 2019 is likely to be the last year in which the current system of EU subsidy payments is likely to apply.
The Department of Agriculture, Environment and Rural Affairs (DAERA) has said it intends to keep the status quo for several more years until changes are rolled out.
But it is unlikely that any decision on that would be taken until an executive is back in place.
Farmers will receive payments for "public goods", such as access to the countryside and planting meadows.
The NIAC heard evidence that this proposal was designed with England in mind and would have a serious impact on Northern Ireland farms if not modified.
Goods crossing the Irish border also came under scrutiny.
In 2017, £899.5m of food and live animals were exported to the Republic of Ireland from Northern Ireland.
MPs were told that a no-deal scenario could result in fresh milk, live animals, cereals and flour being unable to cross the border and unable to access wider EU markets.
The NIAC warned that land-based businesses have not been given clarity on what a no-deal, however unlikely, will mean for cross-border trade.
In compiling the report, the committee heard evidence from farmers, the Ulster Farmers' Union, academics and representatives from the livestock, meat and dairy industry.