Stephen Nolan wins gold at radio industry awards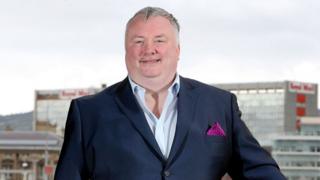 BBC Northern Ireland's Stephen Nolan has been named Best Speech Presenter at Breakfast at the Audio & Radio Industry Awards (ARIAS).
He was presented with a gold award for his weekday show on BBC Radio Ulster/Radio Foyle at the awards ceremony in Leeds on Thursday night.
His colleague Stephen McCauley won bronze in the Best Specialist Music Programme for his show, Soundscapes.
The organisers have described the ARIAS as "the Oscars of UK radio".
'Enormously proud'
The awards are staged by the Radio Academy, a registered charity "dedicated to the encouragement and recognition of excellence in UK radio broadcasting and audio production".
BBC Northern Ireland's head of content production, Eddie Doyle, said: "These awards are a measure of our success and it is great that our efforts have been recognised by our peers in this way.
"We are particularly pleased in light of the recent wins at the PPI Awards in Kilkenny.
"I'm enormously proud of both Stephen Nolan and Stephen McCauley for their success."