NI health workers want action on pay gap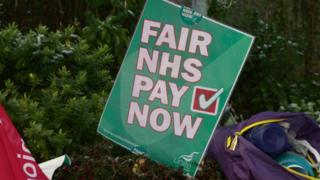 A trade union has called for action on health workers' pay after new legislation was put forward to clarify decision-making at Stormont.
The bill will provide legal clarity for civil servants who run departments in the absence of local ministers.
Unite the union said the move may help address the pay gap between NHS staff in Northern Ireland and Great Britain.
But the Department of Health said it was unable to negotiate without an overall public sector pay deal.
'Political failure'
Unite has asked to meet the Department of Health's top civil servant, Permanent Secretary Richard Pengelly, to discuss the latest development.
The union claimed Northern Ireland healthcare workers are paid "substantially less" than staff in Great Britain and have been "left behind on pay as a result of political failure".
"As an example, paramedics in Northern Ireland receive a full £8,000 a year less than they get in England, Scotland and Wales," said Unite's regional officer, Kevin McAdam.
"That situation has arisen as a direct result of the absence of a functioning, locally-accountable Northern Ireland Executive," he added.
"Healthcare workers here have been denied the pay increase that has been agreed and extended to workers in all other parts of the United Kingdom."
The union has called on Mr Pengelly, to "open negotiations with the trade unions on pay immediately".
'Frustration'
However, a spokesperson said the Department of Health was "doing everything they can within existing constraints to make progress on health and social care pay in Northern Ireland - but it is not a straightforward process".
"We are listening very carefully to the concerns of health and social care workers in Northern Ireland, and understand their frustration," the department added.
"However, in the absence of an Executive Pay Policy for 2018/19, we are unable to formally negotiate."
Public sector pay policy is normally set by Stormont's finance minister, but Northern Ireland's devolved government collapsed in January 2017.
Last year, civil servants at the Department of Finance set a pay policy for 2017/18 in the absence of a locally-elected minister.
It is hoped the new legislation on civil servants' decision-making will help inform the way forward for the 2018/19 policy.