RHI inquiry: Civil servants 'failed' over green scheme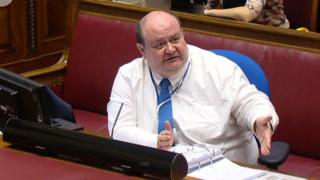 Stormont civil servants failed to ensure adequate checks were done to guarantee there were controls on payments under a flawed green energy scheme, an inquiry has heard.
Sir Patrick Coghlin made the comment at the Renewable Heat Incentive (RHI) inquiry, which he is chairing.
Thursday marks day 106 of hearings.
The RHI scheme was set up in 2012 to boost uptake of eco-friendly heat systems, but huge fuel subsidies left NI taxpayers with a £490m bill.
Its failings led to the establishment of a public inquiry in January 2017.
Sir Patrick said a team that signed off the RHI scheme in 2011 took a colleague's word for it, that the money could be stopped if it went over budget.
He said that should not have been enough to satisfy the scrutiny committee in the enterprise department, which set up RHI and gave it the go-ahead.
Sir Patrick said it should also not have gotten through the finance department, which had to give ultimate approval for the scheme's budget.
Witness Trevor Cooper, of the enterprise department's finance division, was the head of the scrutiny committee in 2011, in advance of the scheme launch.
'Serious warning'
He had been advised by a colleague that he needed to be sure that the finance department received assurances there would be sufficient budget controls built into it.
She told him the funding was unusual and could have an impact on the departmental budget in the event of any overspend.
But when the scheme came to be scrutinised, Mr Cooper accepted an assurance from an official in the energy division of the department that payments could be stopped in-year.
No such power existed in the regulations, and Mr Cooper accepted that he had not read them as part of his scrutiny role.
Sir Patrick said Mr Cooper had received a "serious warning".
'Bolt out of the blue'
He said the easiest way for him to ensure the guarantees were in place was to point them out in the proposed regulations.
"But there was no interim budget control in the regulations," said Sir Patrick.
"There was no effective budget control in the regulations. It's as simple as that."
Mr Cooper said when it was established in June 2015 that finance approval for scheme spending had lapsed in March 2015, that a £7m in-year overspend had been racked up already and there was no quick way to stop further payments, it came as a "bolt out of the blue".
Later, Mr Cooper was asked why finance had not intervened immediately when they got a document from energy officials suggesting the scheme was open to abuse.
It came as part of a draft business case for proposed cost controls in summer 2015.
By that time, officials in the enterprise department had realised the critical flaw in the scheme and were looking at ways to deal with the problem and the scheme's budget.
The business case indicated that returns of 33% were not uncommon, well above the 12% originally envisaged - and it suggested some businesses may have been using their boilers simply to rack up subsidies.
Mr Cooper had read the document but said it did not set an alarm bell ringing with him.
He rejected a suggestion that enterprise officials had by then realised that the structure of the scheme facilitated abuse.
Sir Patrick asked him had he picked up the reference in the document.
Mr Cooper said he did not remember seeing it.
Inquiry counsel Joseph Aiken said the document had come at the end of a summer where mounting problems in the scheme had become increasingly apparent.
First there had been the lapse of spend approval, then questions had been raised over its value for money.
Now he said finance officials in the enterprise department had a document that suggested over-compensation and potential abuse.
He asked why it had not prompted Mr Cooper to print off the relevant page, walk down the corridor and insist to colleagues that they review the plans for cost controls - particularly as they had not yet been signed off by the then minister Jonathan Bell.
'Rolling up his sleeves'
Earlier, Mr Cooper had told the inquiry that after a meeting in summer 2015 and in light of legal advice given to the department, he and others were of the opinion that the only way to change the scheme was through legislation.
It was a long and slow process, but they did not think they had the power to put an immediate stop to it.
And inquiry panellist Keith MacLean suggested that much of Mr Cooper's evidence showed him passing on concerns about the scheme rather than addressing them.
Mr Cooper said he had expressed a lot of his concerns verbally, and one of his big regrets was not committing more to paper.
But he said he did not accept criticism for not "rolling up his sleeves" and dealing with it.
He had conveyed his misgivings to those he thought best placed to deal with them.
Mr Cooper was also asked why a reference to a review of the ill-fated scheme in the documentation was not challenged.
It was made by energy official Stuart Wightman in a briefing note.
Mr Aiken said the reference to a review in 2013 had been allowed to go unchallenged, and had eventually made its way into formal papers presented to the finance department as part of approvals for scheme changes.
But there actually had been no formal review of the scheme as required under the original authorisation.
Mr Cooper suggested the wording had been a "fig leaf" to cover the Enterprise department's blushes that it hadn't been done.
It was suggested that the 2013 work on the introduction of the domestic RHI scheme could be presented as evidence of a review procedure, even though it was not what was required under scheme approvals.
'No framework'
Mr Cooper said the idea had been floated at a senior management meeting attended by amongst others, the then permanent secretary Andrew McCormick in 2015.
He said no-one had agreed to the idea, but no-one had demurred from it either.
On Wednesday, the inquiry heard there had been a "total lack of communication" between two divisions of the enterprise department when it came to the RHI scheme - something Sir Patrick described as "complete organisational disaster".
On Thursday afternoon, Mr Cooper accepted that a lack of written records hindered civil servants' ability to sort out the problems with the RHI scheme in June 2015.
Inquiry panellist Dame Una O'Brien put it to him that he and other officials who were dealing with the scheme did not have "any framework" to guide them in solving the issues they were facing.
Mr Cooper said he absolutely agreed with that.
The inquiry's oral hearings are due to conclude at the end of next week.
On Tuesday, former ministers, the DUP's Simon Hamilton and Sinn Fein's Máirtín Ó Muilleoir will give evidence.
Mr Ó Muilleoir, a former finance minister, will be the first and only Sinn Féin figure to give oral evidence - he set up the inquiry back in January 2017.