Civil servants bill 'a smoke screen for failure'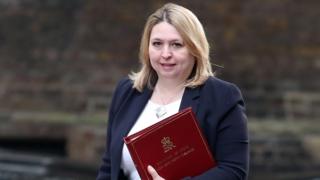 Northern Ireland Secretary Karen Bradley has said new legislation provides the "best chance" of delivering power sharing.
She believes it will provide the "opportunity" and time to restart political talks.
The bill aims to give civil servants greater flexibility when it comes to making decisions.
But former UUP leader Lord Empey dismissed the bill as a "smoke screen for failure".
The Executive Formation and Exercise of Functions Bill is to be fast-tracked through the House of Commons and House of Lords.
It will also suspend the secretary of state's legal duty to call a fresh assembly election.
"The bill creates a period where an executive can be formed at any time during which there will be no duty to call an election," Mrs Bradley said.
"This will provide an opportunity and the necessary time and space to restart political talks with the aim of restoring devolved government as soon as possible.
"At the heart of the Belfast Agreement is a devolved power sharing government in Northern Ireland.
"This bill gives the best chance of delivering that."
Decision making
Mrs Bradley said that once the legislation is passed through parliament it will help the political parties to use the "next few months" to get around the table and come to an agreement.
The bill provides for a five-month period up to 26 March during which an executive may be formed without further primary legislation or an Assembly election.
Provisions have also been made to extend the period for a further five months.
But there is no commitment or date in the statement released by the Northern Ireland secretary as to when a talks process may begin.
The legislation also deals with decision making at Stormont and provides legal clarity for civil servants who are running the Stormont departments in the absence of ministers.
They will be supported with guidance from the Northern Ireland secretary, but the final decision will rest with the civil servants.
Decisions which involve high levels of public spending or a change in policy are unlikely to be taken by officials and will instead be left for ministers.
The bill will also give UK government ministers the power to make public appointments.
These will apply to the Northern Ireland Judicial Appointments Commission, Northern Ireland Policing Board, the Probation Board and the Police Ombudsman.
The legislation is due to be debated at Westminster next Wednesday and it is expected to come into effect in early November.
'Farcical situation'
Critics of the legislation believe it could see big decisions left on the shelf and leave civil servants vulnerable to legal challenges.
Sinn Féin South Down MP Chris Hazzard said it was a "farcical situation".
Northern Ireland's devolved government at Stormont collapsed in January 2017 and civil servants have been left to run Northern Ireland's public services since then.
But their remit was thrown into doubt in May when a court ruled that a senior official did not have the power to give the go-ahead for a controversial waste incinerator plant.
Last month, as she announced a cut in assembly members' pay, Mrs Bradley said she would draft legislation to provide "greater clarity and certainty" for civil servants and to "ensure the continued delivery of public services".