Boy charged with homeless man's murder granted bail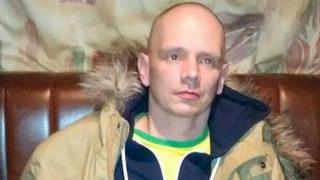 Police suspect a boy charged with murdering a homeless man whose body was found in a former parochial house was a member of a gang calling themselves the "Maghera mafia", a court has heard.
The body of Piotr Krowka, 36, a Polish national, was found on Maghera's Glen Road in April.
Adrian Kozack, 18, from Craigmore Heights in Maghera and a 17-year-old boy are charged with his murder.
Bail has been granted for the boy.
Last week, Mr Kozack, and the boy who cannot be identified due to his age, were remanded in custody after being charged with murder.
Lawyers for both advised bail would be sought at a later date.
The boy appeared by video-link at Dungannon Youth Court on Tuesday where police were strongly opposed to his release.
A detective inspector told the court the victim was originally from Poland and was well-known in Maghera, County Londonderry, as he was the only homeless person in the area.
He had been living rough since Christmas and was last seen alive at about 21:00 on 31 March, when he was followed by a person, believed to be Mr Kozack, and some sort of scuffle or confrontation occurred.
Mr Kozack ran off and sought assistance from others congregating in the area, one of whom is believed to be the boy, the court heard.
What occurred next was described by the detective as "a sustained, violent, assault causing the victim's death".
'Blunt force'
"It was an unprovoked, brutal and relentless attack lasting up to 45 minutes," he added.
Police found Mr Krowka's body on the afternoon of 3 April, and a post mortem examination was conducted.
This revealed he suffered a violent death, caused by "blunt force trauma" to his head, chest, abdomen and left arm.
There was also evidence that a sharp weapon was used and pressure applied to his neck.
The youth was described as a suspected member of gang calling themselves the "Maghera mafia" who have been terrorising the community with anti-social behaviour for some time.
The detective said: "Whilst it is accepted the accused is a youth, police believe the public require to be protected from him.
"There are also concerns of attempts to interfere with witnesses to withdraw or change their statements."
The court heard the youth's parents asked police if they could take him away for a short break during the summer and when this was declined, accepted the decision without question.
A defence lawyer said his "client's age puts him in favour of bail" and added that "there is little cause for concern, although it is agreed the allegation is extremely grave".
"(The boy) has adhered to bail terms perfectly from the outset and any concerns can be adequately dealt with by appropriate conditions," he said.
District Judge John Meehan ruled that bail could be granted, with strict terms.
The boy must reside with his parents, observe a curfew from 21:00 to 07:00, refrain from entering a number of specified areas, have no contact with any witnesses, surrender his passport, be electronically tagged, refrain from drugs and alcohol and sign daily with police.
There is also to be a £1000 surety.
The case will be mentioned again next month.