Autistic boy 'constructively excluded' from school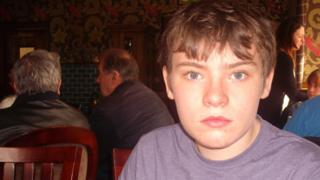 A pupil with autism was "constructively excluded" from a Belfast special school, a tribunal has ruled.
The governors of Park School and the Education Authority (EA) have been ordered to write letters of apology to Finn Loughran-Hayes.
Finn's parents said an apology was not enough to compensate the teenager for the trauma of being excluded.
The EA, also responding on behalf of the school, said it was considering the tribunal's decision.
Finn began to attend Park school in 2016 aged 16 after moving to Northern Ireland with his family from England.
He had a statement of Special Educational Needs (SEN) from a local authority in England, but statements in England have no legal status in Northern Ireland.
He was placed in Park school while waiting for a SEN assessment in Northern Ireland, but was only in school for three hours a day.
An arrangement was made whereby Finn's mother, Gillian Loughran, went to school with him and remained in the corridor while he was in class.
However, following a "heated" conversation between Ms Loughran and a teacher in the school in March 2016, Finn's parents withdrew him while their complaint about the incident was investigated.
Finn's parents had expressed a wish for him to return to Park school under different teaching arrangements, but later made a formal complaint to the EA.
However, no arrangements satisfactory to Finn's parents were put in place, he did not return to the school and he and his family subsequently moved back to London.
His case was considered by a Special Educational Needs and Disability (SEND) Tribunal in May 2018 and their judgement has only recently been released.
They ruled that Finn "was constructively excluded and this was not a voluntary withdrawal".
They also said that the EA did not adequately supervise Finn's placement in the school while he waited for an assessment.
The tribunal said a child without a disability would not have been treated in the same way.
"The tribunal holds that the failure of both the school and the EA to make reasonable adjustments to ensure that in relation to the education and services provided for or offered to Finn placed Finn at a substantial disadvantage in comparison with pupils who are not disabled," their ruling said.
They ordered the EA and Park School's board of governors to each write a formal letter to Finn and his parents "apologising for their failure to make reasonable adjustments to allow Finn to return to school during the period April to May 2016, and thus constructively excluding him from school".
However, Ms Loughran and her husband, Mark Hayes, are calling for a change in the law to ensure pupils like Finn receive more than an apology.
'Inclusion and equality'
"The impact of the exclusion on our son has had a far-reaching and lasting impact on Finn and our family," Ms Loughran told BBC News NI.
"How fair is it that if you win an employment tribunal case for constructive dismissal you likely receive compensation, but if you experience constructive exclusion from education you have no legal entitlement to compensation?"
"That goes against the whole ethos of inclusion and equality in society."
Rachel Hogan from the Children's Law Centre in Belfast had supported Finn's parents in taking the case to the SEND tribunal.
"Even if successful in proving disability discrimination, compensation is not available as a remedy for children or their parents," she said.
"The remedies available do not reflect the range and severity of the impacts which a child may suffer at school and which often spill into the family at home."
When contacted by BBC News NI, an Education Authority spokesperson said: "EA is presently considering the tribunal's decision."