WW1: Irish nationalist soldiers commemorated in France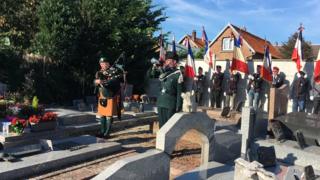 The second of two joint services of remembrance for soldiers from Ireland who fought and died in World War One has taken place in northern France.
On Saturday, the 36th Ulster Division was commemorated in Belgium.
On Sunday, it was the turn of nationalist soldiers from the Falls Road in the 6th Connaught Rangers.
The ceremony in Ronssoy involved a dedication of a plaque to the battalion.
About 600 men enlisted to fight for the British Army in the hope of showing Ireland could be trusted with Home Rule.
However, on their return, far from finding a country ruled by a 32-county parliament, many were ostracised or remained silent about their experiences and subsequently supported the republican cause.
The 6th Connaught Rangers Research Group, based in west Belfast, has carried out extensive work on the many nationalists who went to war in Europe.
Members of the group gathered in the small village of Ronssoy on Sunday morning to lay wreaths and remember the sacrifices of those soldiers.
As well as a laurel wreath laid by a representative of the Irish Army, poppy wreathes were laid by a member of the British armed forces.
Both nationalists and unionists were represented at each of the weekend's ceremonies.
Harry Donaghy of the 6th Connaught Rangers Research Group, told BBC News NI its members feel it is important that the nationalist soldiers' contribution is remembered.
"No one would deny that it still has a resonance," said Mr Donaghy.
"Bitterness is a very difficult thing to expunge from our political calendar, but I would argue that, in the main, there has been an understanding and acceptance of something that was ignored or forgotten about for almost 100 years.
"Now, nationalism has a maturity and understanding that this is part of Irish nationalist history."
The weekend marked the culmination of two years of events, which began with the centenary of the Battle of the Somme on 1 July, 2016.
Alan McFarland, chair of the Somme Association, said Sunday's ceremony was "a unique event".
"We've got the two traditions here, we have a cross-border tradition here today, the Irish Army, the British Army.
"These things are very important in terms of letting people explore their own background.
"We've been working for 25 years, looking at the First World War, because it's the last time the two traditions in Ireland fought in common cause and it's a good vehicle to allow people to explore their own history."
The exhortation at Sunday's Act of Remembrance, "They shall not grow old, as we that are left grow old," was read out in Irish as well as English.
BBC News NI reporter Mervyn Jess, who attended the events, said the exhortation "says a lot about the way things have unfurled and have been unpackaged over this past couple of years around the Somme".