Arlene Foster warns Theresa May over 'dodgy' Brexit deal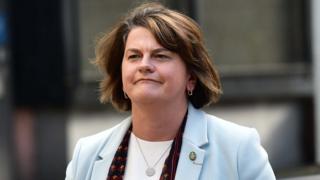 The DUP leader has warned the prime minister not to accept a "dodgy" Brexit deal she will later regret.
Arlene Foster has drawn an explicit parallel with the 1985 Anglo-Irish Agreement.
The agreement, signed by Margaret Thatcher, gave the Irish government a formal consultative role in Northern Ireland.
Mrs Foster said Mrs Thatcher "later deeply regretted the choice she had made."
The Anglo-Irish Agreement is seen by many historians as a development which helped lead to the peace process.
At the time it faced huge, sometimes violent, opposition from unionists and loyalists in Northern Ireland.
Writing in the Belfast Telegraph the DUP leader says: "We do not want or need the regrets of another prime minister.
"We want her to stand by her principles and instincts rather than accepting a dodgy deal foisted on her by others."
'One nation'
The article essentially restates the DUP opposition to any Brexit backstop arrangement which would see Northern Ireland remaining in the EU's single market while the rest of the UK leaves.
That would necessitate product standard checks on some goods coming into Northern Ireland from elsewhere in the UK.
Mrs Foster says: "Such a barrier cuts right to the heart of what is at stake here.
"The UK is one nation. There should not be international-style borders within it."
Mrs Foster's comments come at a critical stage in the Brexit negotiations.
Mrs Foster previously said that the prime minister could not "in good conscience" recommend a Brexit deal that places a trade barrier on businesses moving goods from one part of the UK to another.
'National humiliation'
Theresa May relies on DUP support in key votes because she does not have a majority in the House of Commons.
The DUP has said it could vote down the government's Budget later this month.
The former foreign secretary, Boris Johnson, has expressed his support for the DUP's position, saying that the party's concerns about last December's backstop have been "amply justified".
In an opinion article for the Belfast News Letter, Mr Johnson wrote: "The DUP, and some of us from within government, said at the time it would limit our choices and tie our negotiating hand.
"It is now clear we were right. Its implications for the unity of the United Kingdom are severe."
Mr Johnson also repeated his opposition to Mrs May's Chequers plan, arguing that effectively keeping the whole UK in the customs union and single market would be "the greatest national humiliation since Suez."
"It is mortifying enough to see our country set on the way to dismemberment: it is worse still to actively acquiesce in it", he wrote.