North Belfast men jailed over £125,000 cocaine operation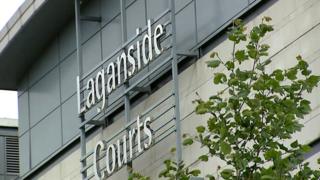 Two north Belfast men have been been jailed for their part in a "well organised'' £125,000 cocaine and cannabis dealing operation.
Nicholas Mackle Snr, 60, of Fortwilliam Park, was jailed for two-and-a-half years.
He admitted possessing drugs with intent to supply and having a gun and ammunition in suspicious circumstances.
Philip Hugh Mitchell, of Beechwood Avenue, Newtownabbey, was jailed for 16 months.
The 35-year-old pleaded guilty to a single charge of possessing cocaine with intent to supply. He was ordered to serve a further 16 months on licence on his release from prison.
Nicholas Mackle Jnr, 40, of Coolymoyne Park, was handed a 12-month sentence suspended for two years after he pleaded guilty to cultivating cannabis.
Belfast Crown Court was told that on 1 April, 2015, police searched a number of addresses in north Belfast and recovered a "significant'' quantity of Class A cocaine and Class B cannabis, as well as amphetamines, a number of guns and ammunition.
Mitchell and Mackle Snr were found at an address in Midlands Close, where police recovered cocaine with a "high purity level of up to 80%'' and which had the potential street value of more than £110,000.
A quantity of the cutting agent benzocaine was also seized.
Cocaine presses and cannabis plants
At a nearby house in Midland Crescent, police found two cocaine presses. Officers also discovered 18 plants in an upstairs cannabis factory with a potential street value of more than £15,000.
A prosecutor said Mackle Snr was the "principal'' in the drug supply operation while Mitchell played a lesser role to him.
However, Judge Geoffrey Miller said it was the court's view that Mackle Snr was "not the brains behind the operation'' and there was "no evidence of trappings of wealth''.
Passing sentence the judge told Mackle Snr he would serve a further three years on supervised licence on his release from jail to allow to him take part in drug and alcohol programmes to deal with his addictions.
He said that an aggravating factor in the father of six's case was the possession of a "converted sub-machine gun''.
"What was the intended purpose of this firearm is a question this court needs to address. There is, however, no evidence to suggest this weapon had been used directly against or to threaten anyone,'' Judge Miller said.
He added that the most likely reason Mackle Snr had the gun was for a defensive purpose.
Judge Miller added that although the gun was in a "poor condition'', the weapon remained "dangerous'' and could "cause serious harm''.
Confiscation proceedings against the Mackles were adjourned until next month.