Adrian Ismay: Video of bomb explosion shown to court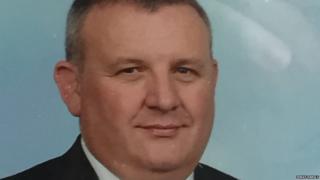 A court has been shown a video of the moment a bomb exploded under the van of a prison officer.
Adrian Ismay, 52, died 11 days after the device exploded under his van in March 2016.
It had been planted near his home in east Belfast.
The CCTV footage shown at Belfast Crown Court was recorded at the premises of a local funeral parlour just yards from his home, as Mr Ismay set off for work shortly after 7am.
It shows the prison officer's blue VW leaving his drive and setting off towards a speed bump below the camera.
Suddenly the bomb explodes, the van lifts, smoke billows out - it rolls forwards over a speed bump and stops, and debris flies across the road.
The driver door opens and Mr Ismay emerges, around the front of his vehicle limping to the passenger door.
Passersby can be seen coming to help Mr Ismay, before he is taken over to a wall and helped to sit down before the footage ends.
Earlier on Thursday, a video of the moment an alleged suspect fled after planting a bomb under Mr Ismay's van was shown to the court.
In it, a figure is seen running from the direction of Mr Ismay's drive towards a parked Citroen C3 car and getting into the seat behind the driver.
The car is then driven away with the headlights still switched off.
The court was also shown several clips of CCTV footage showing the route of the vehicle across south Belfast before it arrived and parked in the area of Mr Ismay's home on Hillsborough Drive in the east of the city.
Christopher Alphonsos Robinson, 48, with an address in Aspen Park, in the Twinbrook area of west Belfast, denies the murder of Mr Ismay, causing the explosion, and providing a car for the purposes of terrorism.
The trial continues.