60,000 pupils in shared education in Northern Ireland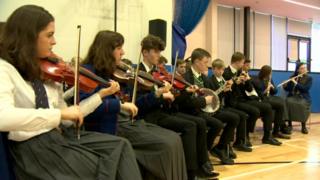 Almost 60,000 pupils and about 580 schools now take part in shared education projects in Northern Ireland.
However, some schools in shared partnerships are reluctant to "address issues that could be regarded as sensitive or controversial".
That is according to an Education and Training Inspectorate (ETI) report.
Shared education involves pupils from separate schools and different backgrounds engaging in joint classes and activities.
Teachers and school governors from different schools can also work together.
It differs from integrated education where pupils from Catholic, Protestant and other backgrounds are educated together in the same school.
How does shared education work?
Seaview Primary School in north Belfast has been in partnership with St Patrick's Primary School in the nearby New Lodge area for three years.
Seaview's principal Corinne Latham said working together on a sustained basis helped pupils explore their similarities and differences.
"The children from St Patrick's will come across to our school after a series of electronic exchanges," she said.
"They use Skype and Facetime in the classroom and meet new friends, albeit virtually.
"But then they have the experience of coming into each others schools.
"So in my school it's quite regular to see children with a St Patrick's uniform walking the corridors just as it is to see the Seaview children in St Patrick's.
"Not only do they meet new friends but they're learning that the main difference they have is actually their school uniform - they are the same people with unique personalities but different types of identity."
Who is involved?
More than 580 schools from pre-school to post-primary are involved in more than 250 shared education partnerships.
About £50m has been made available to fund the projects.
The ETI evaluation into shared education said that "through learning with others, the pupils developed positive attitudes, including empathy, respect and inclusion".
"When partnerships explored sensitive and controversial issues, such as aspects of history, the learning was deeper than in other situations," it said.
What are the benefits of the scheme?
In the most effective partnerships, pupils, staff and sometimes parents and the wider community were jointly involved in planning and running sustained activities.
However, the ETI report also said that a small number of partnerships had faced community opposition to shared education.
It also said that sometimes joint projects were an "add-on" rather than an integral part of learning and teaching.
"Not all partnerships were at a stage in their journey where they felt able to address issues that could be regarded as sensitive or controversial," it added.
"While most teachers cite the benefits of shared education experiences on pupils, partnerships report that measuring pupils' attitudinal change remains a challenge."
However, the ETI report also noted that many pupils involved in shared education said they were disappointed and frustrated by the lack of leadership shown by adults in creating a shared future.