Majority of PSNI armed responses linked to mental health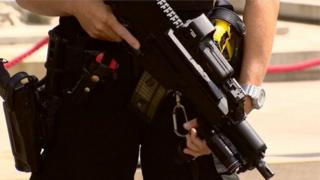 More than half of all interventions by the PSNI's armed response unit are to deal with people suffering from mental health problems, the Assistant Chief Constable has said.
The force is also handling 150 calls each day linked to people with mental health difficulties.
"That has been the saddest shift with which policing deals," Alan Todd told the Irish justice committee in Dublin.
The Garda Siochana (Irish police force) is also experiencing similar issues.
Assistant Garda Commissioner Patrick Leahy said that mental health "is becoming very much part of the lexicon in policing", adding that the majority of people who are jailed have suffered trauma in their childhood.
"It wasn't something that was part of the discourse in policing five or 10 years ago, but it is very much a part of that space now," he added.
Wednesday's sitting of the committee coincided with World Mental Health Day.
Mr Todd said that the PSNI "regularly deals with around 150 calls for service each day linked to a person with an identified mental health issue or related vulnerability".
The armed response unit was set up in 2008 with the principal aim of tackling gun and knife crime.
"Armed response was introduced to deal with gun crime, knife crime, people who are dangerous and committing crime and they do still do that very professionally, but more than half their business is generally interventions in people who are self-harming because of mental health issues," he said.
"Those units are now flat-out busy every day of the week at every point of the clock."
Earlier this year a court heard how a man with mental health problems killed two pensioners in a frenzied attack at their home in County Armagh. shortly after walking out of hospital.
Thomas Scott McEntee admitted the manslaughter of 83-year-old husband and wife Michael and Marjorie Cawdery in Portadown in May 2017.
McEntee, who was suffering from paranoid schizophrenia, was handed a life sentence and ordered to spend a minimum of 10 years in prison.
The court heard that several chances were missed by authorities to take McEntee off the streets.
Speaking at the sentencing, Charles Little, the couple's son-in-law, said the family was aware that McEntee was ill and noted that he "went for help on numerous occasions to the various health trusts, and in particular the Southern Trust".
"He did not receive the help he wanted and, in failing him, they failed us - and Mike and Marjorie paid for it with their lives."