Johnston Press, owner of News Letter, puts itself up for sale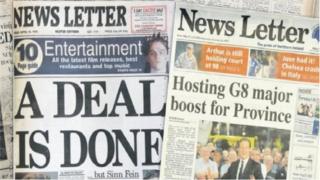 The media group which owns the oldest English language daily newspaper in the world has put itself up for sale.
Johnston Press owns The News Letter and several weekly newspapers across Northern Ireland including The Derry Journal.
The company said the decision had been taken after it failed to to refinance its £220 million debt.
It added that it was not currently in discussions with any potential buyers.
The move follows a strategic review, with the borrowing due for repayment in June next year.
Analysis: John Campbell, Business and Economics Editor
Johnston Press has been in a very difficult financial situation for some time.
They have spent the last year and a half trying to re-finance £220 million of debt.
They cannot find anybody who would want to re-finance that, who will lend them the money.
So they are left in a situation where all they can do is put themselves up for sale.
It is a very worrying time for the future of The News Letter and Johnston Press.
The News Letter celebrated its 280th birthday last year.
In August 1776, it had its greatest ever exclusive - breaking the news that America had declared its independence.
A decline in traditional and digital advertising revenues has seen the value of Johnston Press's titles fall.
It owns more than 200 newspapers around the UK.
Johnston Press saw revenue fall by 10% in the first half of 2018, although it reported a pre-tax profit of £6.2m.