Stormont ministerial code 'had no real force' - RHI inquiry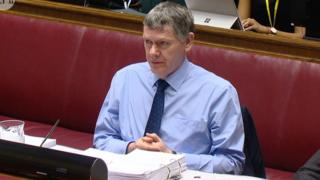 A code Stormont ministers should have adhered to was a paper exercise that had no real force, a senior civil servant has claimed.
Andrew McCormick was appearing at the Renewable Heat Incentive (RHI) inquiry.
He previously led the enterprise department, which had responsibility for NI's flawed green energy scheme.
It was set up in 2012 to boost uptake of eco-friendly heat systems, but overgenerous fuel subsidies left NI taxpayers with a £490m bill.
Its failings led to the establishment of a public inquiry in January 2017.
Mr McCormick was permanent secretary in the enterprise department, when officials learned of problems with the scheme in summer 2015.
'Realpolitik'
On Thursday, the inquiry was told that a key meeting in August 2015, where a decision was taken to delay cost controls to the RHI scheme, had not been formally minuted.
Mr McCormick said that was not unusual, as part of the concern from Stormont civil servants was that there was an "extremely leaky system" with confidential government information.
"Part of the culture was, 'if you write something down, it'll probably appear in the newspapers'," he said.
He claimed rules were ignored so often that ministers "tweeting (information) from the executive room" was common, and there was no way of censuring them.
"The ministerial code says all kinds of things about what should happen," he said.
"But the realpolitik is that they are almost impossible to enforce and therefore they are not enforced, and hadn't been enforced."
He said he believed not taking minutes was "quite prevalent" in Northern Ireland, and the culture had grown across Stormont departments.
The senior civil servant recalled that some meetings when he was the health department's permanent secretary were recorded, but "by no means specifically".
He said Stormont's institutions were "very young", and that it was a particular problem in the devolved administration because the "tensions are multi-dimensional in the nature of enforced coalition".
The issue needed to be discussed frankly and fully when devolution returns, he added.
---
Who is Andrew McCormick?
He was the top civil servant - the permanent secretary - in Stormont's enterprise department, who had to clean up much of the mess of the RHI scheme.
He arrived at the department in 2014, long after the scheme was conceived, and in summer 2015 drew then minister Jonathan Bell's attention to major concerns over its operation.
In February 2018 he was appointed director general of international relations for Brexit, working in the absence of an executive to form Stormont's plans for the UK's exit from the EU.
---
Inquiry chair Sir Patrick Coghlin said he was shocked by Mr McCormick's claim, adding that there could not be a "positive public perception" of the political process when it was clear regulations were not being followed.
"You either have rules, or you don't," he said.
Mr McCormick said he could not disagree with that.
The inquiry has already heard evidence from the head of the civil service, David Sterling, that some meetings were not minuted in order to frustrate Freedom of Information requests.
Mr McCormick said he believed the view towards FOI requests varied across departments.
On Tuesday, the inquiry heard it took more than six months for the minutes of one meeting in Stormont's enterprise department to get signed off.
Mr McCormick said that Stormont parties would sometimes not want the reasons behind their decision to be open to the public, and so to prevent a leak they were not recorded.
Inquiry panellist Dame Una O'Brien said the consequence of that was that people charged with implementing decisions were left to try and figure out the reasons for them.
That was a "major issue" that got in the way of policy being done in a "cost-effective and organised way", she added.
'Active disciple'
Later, Mr McCormick said he was not aware that DUP special advisers were being lobbied to keep the scheme open in summer 2015.
Sir Patrick said the reason he had been asked the question was because of what the inquiry had learned about former DUP adviser, Andrew Crawford.
"We now know that not only was Dr Crawford lobbied, but he was an active disciple on behalf of Moy Park," he said.
The inquiry has heard evidence from several witnesses that Mr Crawford was communicating with the poultry giant about incoming changes to the scheme.
Poultry farmers make up the majority of RHI claimants, and the bulk of them supply Moy Park.
Mr McCormick said the impression of officials at the time was that the pressure for delay in the introduction of cost controls was likely to be coming from Mr Crawford, because of his role as former enterprise adviser and his links with the farming community.
Between them, Mr Crawford's brother and two of his cousins have 11 biomass boilers registered on the scheme.
Mr McCormick said he now believed he should have asked for a ministerial direction when another DUP adviser, Timothy Cairns, requested that cost controls be delayed from 1 October.
The timeframe of one month was agreed with officials - but it turned into six weeks because of administrative delays.
It allowed 800 extra boilers to get accredited on the scheme, earning the most lucrative subsidies.
Mr McCormick, who drew up the rules around ministerial direction for the devolved institutions, said he had replayed that meeting in his head many times.
A ministerial direction is required when a government department's accounting officer - normally the permanent secretary - does not believe that a policy decision offers value for money.
It makes the minister accountable for the outcome.
Mr McCormick said the huge spike in applications had yet to happen, but the delay raised enough issues that he probably should have insisted on ministerial cover for the decision.
"I feel I should have been surefooted on that point and that's why I look back with some regret," he said.
'Missed a trick'
On Thursday afternoon, Mr McCormick revealed there was not a good relationship between the enterprise department and the Stormont committee that scrutinised it.
Last week, the former committee chair, SDLP assembly member Patsy McGlone said the department had kept industry officials better informed about RHI than elected representatives.
Mr McCormick admitted the department had not been as forthcoming, and that it had "missed a trick" by not being more upfront with the committee about the full scale of the crisis.
He said it was a wider issue than just the RHI debacle, and he was not sure the committee had "full confidence" in the department's information flow.
Inquiry counsel David Scoffield asked if there was a "reticence" by the department to tell the committee exactly what had been happening.
Mr McCormick said there had been no deliberate intention to withhold information, but that officials should have engaged more and told the committee how bad things were.
The senior civil servant was later asked about the ultimate closure of the RHI scheme in February 2016.
'Fog of war'
He said a political decision had been taken to truncate the process, dispensing with assembly committee oversight and excluding public consultation.
Mr McCormick said by that point, officials were in "crisis mode" and the "accelerator was firmly to the floor".
The matter was eventually dealt with by way of urgent procedure, with the closure decision being signed off by the first and deputy first ministers.
He agreed it had been necessary to address the mounting budget question and he rejected any suggestion that there had been "anything malicious" in how it was handled.
He put accusations of political interference down to "the fog of war" and he said that, despite confusion, the situation had ultimately resolved itself.
Mr McCormick will have to return to complete his evidence at a later date, the inquiry was told.
The oral hearings are due to finish at the end of October.