Hillary Clinton says NI deserves peace not paralysis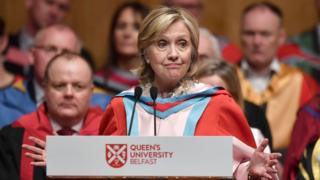 Northern Ireland deserves "peace, not paralysis", former US Secretary of State Hillary Clinton has said.
She urged political leaders to "put their quarrels aside" and form an interim government.
The former US presidential candidate was at Queen's University in Belfast on Wednesday to receive an honorary degree.
NI has been without a functioning government since January 2017 when a power-sharing deal collapsed.
The executive collapsed following a bitter row between the Democratic Unionist Party (DUP) and Sinn Féin., and several rounds of talks aimed at restoring the devolved administration have failed.
Mrs Clinton said an interim government should be formed to steer Northern Ireland through the UK's exit from the European Union.
'Beyond usual politics'
She made the call to an audience, which included Sinn Féin's vice president Michelle O'Neill and former DUP leader Peter Robinson.
During her acceptance speech, Ms Clinton said Brexit was larger than local political divides.
"The policy disagreements dividing your political parties are deeply felt but the stakes of the Brexit process go way beyond politics as usual," she said.
"I wonder if would it be possible for the people of Northern Ireland, and those who represent them both in Westminster and here, could figure out a way to form an interim community government for the purposes of securing the best possible Brexit outcome for Northern Ireland.
"Imagine a functional executive that speaks for all the people of Northern Ireland, weighing in on the final negotiations and implementation of whatever plan emerges.".
'Symbol of hope'
The former First Lady first visited the city back in 1995 during a crucial stage of the peace process.
She accompanied her husband Bill as he became the first serving US president to visit Northern Ireland.
On Wednesday, Mrs Clinton said Northern Ireland remained a symbol of hope.
"The world is watching, Northern Ireland has been a symbol to people everywhere, democracy's power to transcend divisions and deliver prosperity, peace and progress," she said.
"We need that, that symbol, that reality now more than ever.
"Peace not paralysis, you deserve that better future, you always have."
Earlier in the ceremony, Mrs Clinton welcomed a new scholarship in her name, which was announced by Queen's Pro Vice Chancellor Adrienne Scullion.
The Hillary Rodham Clinton scholarship will be available for post-graduate study in politics, human rights and peace building.