Prioritise victims over investigations - former NI secretaries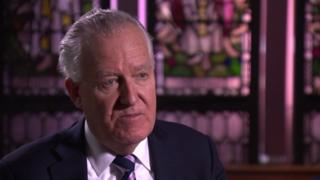 Four former Northern Ireland secretaries have written to Karen Bradley saying that support for victims should be prioritised over funding any further historical investigations.
The letter is in response to plans to create a series of new bodies to deal with the legacy of the past.
The public consultation on the legacy of the Troubles closed on 5 October.
The government's consultation paper, addressing the Legacy of Northern Ireland's Past, was launched in May.
Three former Labour secretaries of state, Lords Hain, Murphy and Reid have signed the letter, together with former Conservative NI secretary Lord King.
Who wrote the letter?
Lord King was Secretary of State for Northern Ireland from 1985 to 1989. He held several posts under Margaret Thatcher in his career including Defence Secretary during the Gulf War.
Lord Reid served as Northern Ireland Secretary from 2001 to 2002. He was the first Catholic to hold the position and oversaw the IRA's first act of decommissioning.
Lord Murphy was Secretary of State from 2002 to 2005. He previously played a key role as political development and talks minister during the Good Friday Agreement negotiations.
Lord Hain held the position from 2005 to 2007. He later advised a number of Northern Ireland Secretaries of State including James Brokenshire and Karen Bradley.
"We understand why many victims and others attach great importance to the prosecution, conviction and sentencing of those responsible for the appalling loss they have suffered. Their views clearly deserve the utmost respect," they said.
"But experience suggests that it would be a mistake to expect that judicial outcome in any but a tiny percentage of the crimes that have not already been dealt with.
"Most of the cases were not easy to investigate immediately after they were committed and the passage of time - up to 50 years - has only made the chances of a successful outcome much less likely."
The consultation document outlined plans for:
A Historical Investigations Unit which would have a caseload of about 1,700 Troubles-related deaths and aim to complete its work in five years
An Independent Commission on Information Retrieval, which would only look for information if asked to do so by families
An oral history archive which would collect recorded memories and stories about the Troubles in one place
An implementation and reconciliation group with 11 members representing the UK and Irish governments, along with Northern Ireland's five biggest political parties
Lord Hain said they were not calling for an amnesty for perpetrators of Troubles violence.
"We're simply saying that what we've been doing up to now, what has happened up to now, hasn't worked," he said.
"Millions of pounds has gone into investigations. The Historical Enquiries Team had 1,600 cases and three resulted in prosecutions and convictions for murder.
"Now that is not a good outcome in terms of that resource being put in."
'Largely frustrating'
Former NI security minister Lord Browne, the peer whose review led to the creation of the Police Service of Northern Ireland, Lord Patten and Lord Eames, the Anglican archbishop who chaired a group which considered how Northern Ireland should deal with its troubled past, also signed the letter.
The peers point out that the old police historical enquiries team completed work related to more than 2,000 deaths, but this led to only three prosecutions.
They predict the number of prosecutions from the planned new unit is also likely to be very small.
Their letter argues that it would be much more effective to spend the £150m earmarked for new legacy bodies on providing support and compensation for victims.
"The Stormont House Agreement included several proposals to provide further help for victims of the Troubles." they said.
"In the light of what is so likely to be a largely frustrating outcome from further police investigations, we believe it may be a much more effective way of helping victims to use that money on those and perhaps other proposals for meeting the needs of victims."
However, Northern Ireland Victims Commissioner Judith Thompson said that while victims understand the difficulties in getting prosecutions, they wanted to know the truth about what happened to them and their loved ones.
"This call is for all harm by all people to be shoved under the carpet and forgotten about," she said.
"That is not what victims and survivors are asking for."
Her view was shared by Alan McBride, whose wife and father in law were murdered by the IRA in the 1993 Shankill bombing.
"It's not just about prosecutions, it may well be the case that not very many people end up in jail as a result of this, but it's about the families getting reports, getting records, getting an investigative process, being told where the case went to," he said.
"To do away with all of that is, I think, the wrong message at this time."