Belfast City Council appoints Irish language officer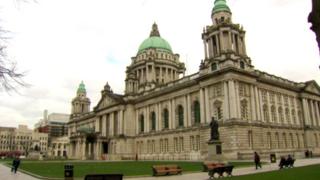 Belfast City Council has appointed the first dedicated Irish language officer in its history.
The announcement was made at Belfast City Hall on Tuesday.
Belfast becomes the fourth council in Northern Ireland to appoint an Irish language officer.
A second officer with responsibility for Ulster-Scots, sign language and other languages has also been appointed.
The officers are expected to develop and promote use of their respective languages within the council and among the public.
The posts are jointly funded by Belfast City Council and the all island languages body, Foras Na Gaeilge.
Unionist councillors had wanted one officer for all languages to be appointed but that was rejected by a council vote in October 2017.
At the event at Belfast City Hall, research by Conradh Na Gaeilge (CnG) and the Committee on the Administration of Justice (CAJ) into how Northern Ireland's 11 councils are complying with their obligations with regard to the Irish language.
They suggest that, while there are areas of good practice, a number of councils are not fulfilling their obligations to facilitate use of the Irish language under the European Charter for Regional and Minority Languages.
The research covered areas including bilingual street signs, Irish language policies and translation services for Irish speakers.