NI abortion law should be reformed by Westminster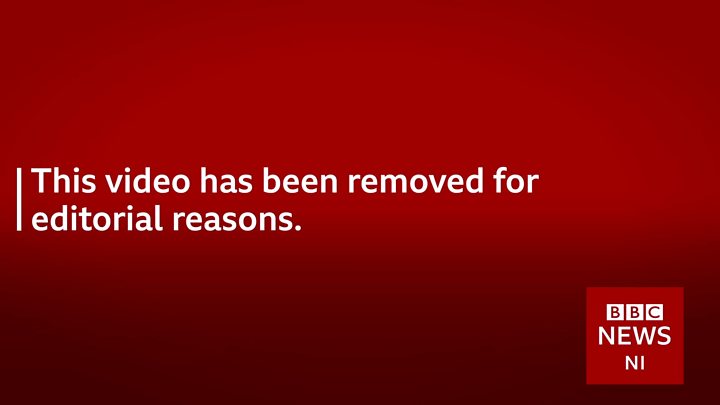 Two-thirds of people in Northern Ireland feel that Westminster should now legislate for abortion reform, an Amnesty International poll suggests.
The charity questioned 1,000 people, seeking opinions about abortion in cases of rape or incest.
It also asked who should reform the law in the absence of a devolved government.
Marion Woods of Both Lives Matter said women need proper support, rather than being pushed towards abortion.
The latest survey comes as a number of Tory MPs have told the UK government that it must "wake up" and decriminalise abortion in Northern Ireland.
The poll found that Westminster was the consistent choice across all demographic groups.
The poll also showed that 65% of DUP supporters chose Westminster and 63% of Sinn Féin voters saying likewise.
Northern Ireland has much stricter abortion laws than other parts of the United Kingdom.
Currently, a termination is only permitted in Northern Ireland if a woman's life is at risk or if there is a risk of permanent and serious damage to her mental or physical health.
The 1967 Abortion Act was never extended to Northern Ireland.
Of those polled:
65% believe that having an abortion should not be a crime
69% of Protestants either strongly agreed or agreed
60% of Catholics either strongly agreed or agreed
74% of others voted likewise
There was higher agreement among Democratic Unionist Party (DUP) and Ulster Unionist Party (UUP) voters when compared with SDLP and Sinn Féin voters but the highest agreement levels, were among Alliance supporters.
Two years ago a similar poll showed that almost 60% of those asked thought abortion should not be a crime.
Choice
Eighty percent of people in Northern Ireland think a woman should have the choice of an abortion when her health is at risk.
Seven percent neither agreed nor disagreed, 13% either disagreed or strongly disagreed.
There were no differences in this viewpoint according to religion.
In fact, 63% of both DUP and UUP supporters strongly agreed with the question, with little difference between SDLP and Sinn Féin, but again the highest agreement levels were among Alliance voters - 84% which was a significant increase.
The poll also reflected views on where a pregnancy is the result of rape of incest.
In this instance eight out of 10 respondents felt that women should have the choice of an abortion.
There was little difference in opinion between men and women, age profile or social class.
Where the foetus has an abnormality that is likely to result in death before or shortly after the birth, 73% felt that women should have the choice as to whether they have an abortion.
Again the difference between DUP and Sinn Féin supporters is marginal: 76% of DUP voters either strongly agreed while 70% of Sinn Féin voters felt likewise.
Both Protestants and other religions were in agreement here, with lower levels of agreement among Catholics.
In 2014 a poll showed 60% of respondents backed abortion in cases of fatal foetal abnormality, in 2016 that figure had risen to 67%.
Both Lives Matter's Marion Woods insisted women needed improved care options.
"What we're being faced with here is groups like Amnesty International pouring money into polls to ask people questions and not giving them real choice," she said.
"They talk about being pro choice, pro choice to them means access to abortion
"If women here in crisis are being given the path of abortion to travel down, but we're not actually putting in the care services and the structures that need to be there to support women during pregnancy, of course they feel that there is no other way out."
However, Amnesty's Patrick Corrigan said women in Northern Ireland should have the full range of choices.
"That fundamentally is the problem at the moment - they are denied one of the key choices that women in other parts of the UK and shortly in the Republic of Ireland will be able to make," he said.
"That is to be able to terminate the pregnancy where their circumstances allow."
In a separate poll, people living in England, Scotland and Wales were also asked their views about abortion laws in Northern Ireland.
Of those polled 78% said abortion should be decriminalised - 11% said it should not be, while 11% said they did not know.
Also of those polled outside of Northern Ireland, 83% said it should be legal for women in here to be able to take abortion pills under the same conditions as women in the rest of the UK.
Seventy-eight percent said abortion should be decriminalised for medical practitioners who provide the service, while 11% said it should not be decriminalised and 12% said they did not know.
The interviews were conducted face-to-face and carried out during the months of August and September this year.