NI scientist who became 'the real Crocodile Dundee'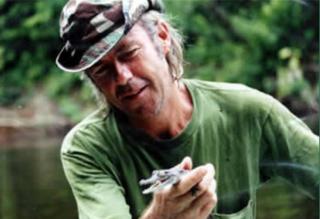 He's wrestled with crocodiles, caimans and been bitten "hundreds of times" by snakes, but Mike Boston could not be happier with his unusual choice of career.
The 65-year-old is a wildlife tour guide in the rainforests of Central America, where customers have dubbed him the real-life Crocodile Dundee.
The lifestyle could not be further from his Northern Ireland roots.
But the former Dungannon schoolboy says he now feels more at home in Costa Rica than he ever did in County Tyrone.
Mr Boston's love of wildlife was inspired by his father, whose job working in the oil industry meant the family moved from continent to continent.
"My father was crazy for snakes, we always had boa constrictors, I grew up with a boa constrictor around my neck," he recalls.
"Even though he was a chemist, he was just nuts for nature."
Mr Boston was born in Pakistan in 1952 but shortly afterwards the family moved to Trinidad and Tobago, where he enjoyed a Caribbean childhood full of adventure.
"Where we lived in Trinidad, there were five reservoirs full of caimans, and even in the 1950s and 1960s they were protected by law.
"My father was made the honorary ward to protect them, so I grew up taking caimans out of people's gardens or snakes from people's houses."
One of their neighbours had a rat problem at his property, which provided another chore for the young Mr Boston.
"He would throw the rats out on his driveway and it was my job to go up and get the rats to feed the snakes, the boas."
'Completely alien'
However to his horror when he was 13, the Boston family moved back to Northern Ireland and set up home in Moy, County Tyrone.
"I was very sad about that, it was very difficult for me," he recalls. "It was the climate, everything was different."
The Bostons sent their son to the Royal School Dungannon, where he found it hard to relate to his new classmates.
"I used to talk about catching caimans - it was just something completely alien to them, they wouldn't understand," he explains.
"I just loved nature, and although there was nature here, there were no snakes."
The reptile enthusiast laments that his parents brought him to one of the few "substantial land masses on the planet that doesn't have a snake".
As well as its shortage of snakes, County Tyrone winters proved a shock to the system.
"I always found getting up here very difficult, there was frost on the inside of your windows or you needed a hot water bottle to get into bed, I wasn't used to all that."
After leaving school, he worked in Belfast for five years before studying for a biology degree at the University of Portsmouth.
'Professional batman'
Mr Boston then returned to Northern Ireland and took a job in the Ulster Museum as an entomologist [insect expert], specialising in the study of another of nature's pin-ups - parasitic wasps.
He was also paid to study bat conservation at the museum, leading to his claim to the title of "Ireland's first professional batman".
In 1988, he helped to set up the Tropical Butterfly House in Seaforde, County Down, and managed the attraction for its first three years in business.
But at the age of 44, and after two failed marriages, he decided to emigrate to Costa Rica to work in adventure tourism.
Now, while his County Tyrone classmates are picking up their free bus passes, Mr Boston's weekly schedule consists of leading tourists on a 30-mile hike into rainforest on the Osa Peninsula.
"It's like being in a living documentary - I see tapirs weekly; I see pumas monthly; scarlet macaws every day; monkeys until I'm sick of the sight of them," he says.
"But when I'm bringing people there I'm seeing it through fresh eyes every time and that's what makes it so enjoyable.
"I just love it, even after 22 years I get excited about going in every time."
Hundreds of bites
Despite his academic background, he admits that getting up close and personal with some of nature's beasts is not always for research purposes, and snake-catching demonstrations sometimes form part of the tours.
"I love snakes, they just entrance me and when I see a snake I just feel a compulsion to catch it," he says.
Often, it is the indignant serpent that does the catching and Mr Boston claims to have been bitten "hundreds and hundreds" of times.
"I don't really mind about being bitten by non-poisonous snakes because they don't have powerful jaws and they only have needle-like teeth," he insists.
His fascination with the natural world has passed down another generation, and he speaks proudly of a Belfast-based daughter from his first marriage who has become a "whizzkid biologist".
"She likes snakes as well but her expertise is bats, she did her doctorate on bats."
Mr Boston spoke to BBC News NI during a rare trip back to Northern Ireland, his first visit in a decade, to celebrate his mother's 90th birthday. So, has he missed the place?
"No, not at all. I mean, I spent two stints of 10 years here and they were more or less both through the Troubles.
"And I wasn't born here... so I don't really have that emotional attachment."
When he now thinks of home, he thinks of the jungles of Costa Rica and the "phenomenal" wildlife in Corcovado National Park.
"I've lived there longer than I've lived anywhere else in my life.
"It's a lovely country and they have been so welcoming to me and accepting to me, it's just beautiful."