Homelessness: Almost 150 deaths in NI while waiting for housing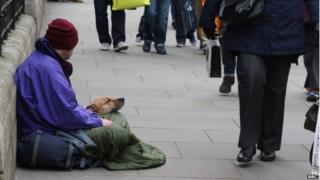 One hundred and forty-eight people registered as homeless in Northern Ireland died while waiting for social housing in an 11-month period.
The Northern Ireland Housing Executive (NIHE) figures were obtained by investigative news website The Detail.
From October 2017 to August 2018, 13 homeless people per month had housing applications closed due to death.
The Green Party's, Claire Bailey, described the figure as "really brutally shocking".
The cause of death is not recorded by the housing executive.
Of the deceased:
63% were aged 60 or younger
the youngest was 18-years-old
the majority (93) were male.
NIHE said that while rough sleepers represent the most severe and visible form of homelessness, they make up a small minority of those defined as homeless.
Along with those sleeping rough on the streets, NIHE also considers people living in temporary accommodation to be homeless. This includes individuals staying with friends or family.
The NIHE said it accepted 11,877 applications for homelessness during the 2017/18 financial year and that all of the individuals could have availed of temporary accommodation, should it have been required.
Clare Bailey found herself homeless during 2008. Her landlord gave her 28 days' notice to leave a rented property along with her two children.
After staying with friends and family, Ms Bailey and her children moved into a hostel for four months before being re-housed.
She told The Detail: "It was an intense time. It was shocking."
When asked what she thought about the homeless death figures for Northern Ireland, Ms Bailey said: "I have never seen those numbers before.
"I have known homeless people who have died, either as rough sleepers or otherwise, but I certainly never would have envisaged that the numbers would have been so high."
For the NIHE to consider a person or household to be statutorily homeless, they must meet the organisation's criteria based upon eligibility, homelessness, priority need and intentionality - for example if you intentionally gave up accommodation.
Ms Bailey also said that homelessness is "not just about not having a roof over your head" and that society needs to understand it in its entirety.
She added: "Rough sleepers are quite small in numbers, but that doesn't mean the homeless crisis is a small problem, it's not."