Stormont deadlock: NI Secretary meets Church leaders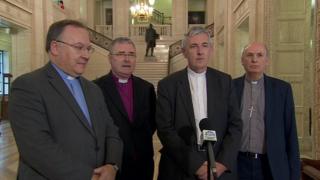 Leaders of Northern Ireland's main churches have described their meeting with the NI Secretary as "positive and encouraging".
They met Karen Bradley at Stormont amid efforts to begin a fresh talks process.
Mrs Bradley also met the five main Stormont parties and the Irish deputy prime minister later on Monday.
The meetings, aimed at restoring devolution, come more than 600 days after the assembly collapsed.
The Alliance Party's Stephen Farry said the current round of discussions initiated by the secretary of state feel like they are just "treading water".
He said the talks process needed to be "re-energised" and he called on Mrs Bradley to provide a road map of solutions.
SDLP leader Colum Eastwood said he and his party felt locked out of the process and he called on the British and Irish governments to step in.
Ulster Unionist Steve Aiken said "the way to go forward is to get all the parties back together, get the talks moving and get on with it."
Mrs Bradley said she wanted to improve dialogue between the parties and is committed to bringing back the Assembly at the earliest opportunity.
Speaking following Monday's meeting, the leaders of NI's main churches said the conversation had been "positive and encouraging".
They said they had wanted to "change the mood music" and "allow our politicians a little bit of time and space so that they can engage with each other".
The church leaders had previously held talks with Northern Ireland's political parties.
Presbyterian moderator Dr Charles McMullen described the talks as "surprisingly positive", but added: "We cannot promise all will be rosy in the Stormont garden overnight."
Previous talks have failed to resolve conflict between Sinn Féin and the DUP.
However, Ms Bradley said she remained deeply committed to bringing back the power-sharing executive as soon as possible.
The Northern Ireland secretary is expected to bring legislation to Westminster to give local civil servants more flexibility to take decisions.
Some Stormont politicians have already criticised her plans.
But Mrs Bradley said she had been encouraged by the intervention from local church leaders.
"It appears to have been a constructive discussion and I am keen to encourage the church leaders to continue that dialogue as we strive to seek as wide a consensus as possible on the way forward," she said ahead of the meetings.
Continuing differences between parties on issues such as Brexit and the ongoing Renewable Heat Incentive (RHI) Inquiry suggest ending the stalemate will be a hard-fought struggle.
What are the main sticking points?
Although Sinn Féin pulled the plug on the assembly more than 600 days ago - in protest at DUP leader (and then first minister) Arlene Foster's refusal to stand aside over her handling of Northern Ireland's botched RHI green energy scheme - in subsequent talks processes, other issues have become more dominant.
Sinn Féin wants a stand-alone Irish language act, which it says would enshrine the rights of Irish speakers in Northern Ireland.
But the DUP has refused to budge on this, with Arlene Foster saying she would never "accede" to a stand-alone act.
Renewable Heat Incentive (RHI)
The scandal which brought down the assembly led to the creation of a public inquiry, which is ongoing.
It has heard from several DUP witnesses including Mrs Foster - and has put a spotlight on how the party didn't always work in accordance with Stormont rules.
It's hard to see how Sinn Féin and the DUP could go back into government while the inquiry is continuing to dredge up political mud.
Dealing with the fallout of NI's violent past has proved a challenge for all the parties here and there are some issues that they can't agree on.
Sinn Féin wants to see funding released for legacy inquests to go ahead, while the DUP does not support a plan put forward for public consultation on legacy issues by the British government.
Same-sex marriage/petition of concern
The DUP, which has entrenched religious roots, is the only main party in the NI Assembly that is opposed to same-sex marriage.
In the past, it has used a veto mechanism, known as the petition of concern, to block legislation that would legalise same-sex marriage.
Sinn Féin has previously said it would not return to government unless the DUP agreed not to use the petition of concern on this issue in the future.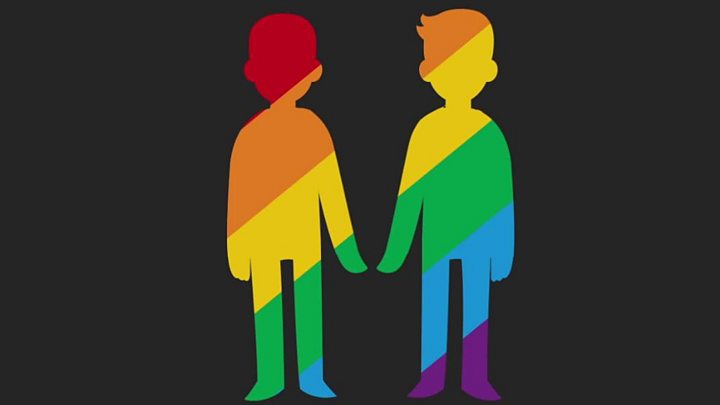 The DUP said it would not agree to that, as all parties at Stormont have used the petition of concern to protect its views in the past.
There are also calls from some of the other parties for the petition of concern to be reformed so that it cannot be used on such issues in the future, though there has never been any indication that agreement on this could be reached.
Who is involved?
Stormont's five main parties (it seems like a lot but Northern Ireland's political system is more complex than other places) are involved: the largest unionist and nationalist parties, the DUP and Sinn Féin; the smaller unionist and nationalist parties, UUP and SDLP; and the cross-community Alliance party.
They are all entitled to seats in the executive because of the number of votes they gained in the last election, which is why they are involved in the talks.
But ultimately, if there is to be government again, the breakthrough needs to come between the two largest parties.
Mrs Bradley and Irish Foreign Minister Simon Coveney are involved too, as well as Church leaders.
Are the parties talking at all?
If they are, it is not often.
Stormont is a quiet shell of itself for the most part these days.
Given the impending Brexit countdown, the lack of a Stormont assembly has taken a backseat in recent months.
After the latest talks process collapsed in February when the DUP said it could not support Sinn Féin's Irish language proposals, things went to ground.
The British and Irish governments have a lot going on with the EU withdrawal agreement - and given the focus on the Irish border, the parties here have been channelling their efforts towards that too.
The DUP's 10 MPs also prop up Theresa May's minority government at Westminster and, although the party would say it's still committed to restoring devolution, it certainly has been keen to extend its influence in London more than ever.
The parties do still talk occasionally, as with last week's meeting with Church leaders, so it's not totally unfathomable that they could move again from their corners into a middle ground.
But, for the moment, few seem convinced talks will change anything.
Why does it matter?
Because of the impact it has had on governance in Northern Ireland.
In January 2019 it will be two years since government collapsed - in that time there has been what Stormont officials describe as a "slow decay" across public services.
Really important decisions across all areas - health service, infrastructure, schools - have been effectively put on hold because there are no ministers in place to take them.
Furthermore, the longer the parties remain at odds, the harder it is to get back together again.
The DUP has called for the British government to implement direct rule, but Sinn Féin does not want that and Mrs Bradley has not indicated that she is planning to do that.
Instead, she wants to bring legislation to Westminster within months to give Stormont's unelected civil servants the ability to make more decisions until the parties can reach an agreement.
But as they are still very much at odds on the crucial issues, it is not clear, in the long term, what the effect of the limbo could really be.