DUP donation: Electoral Commission challenged over decision not to investigate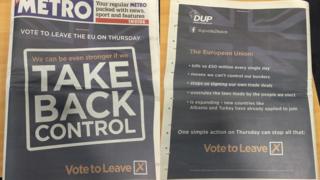 A barrister is to seek a judicial review of the Electoral Commission over its decision not to investigate the handling of the DUP's biggest ever donation.
Jolyon Maugham of the Good Law Project is seeking the review.
He says the decision not to investigate the £435,000 donation, made during the 2016 Brexit referendum campaign, was "utterly inexplicable".
£282,000 of the money purchased a wrap around advert in the Metro newspaper.
In June the BBC Northern Ireland Spotlight programme broadcast a report about the donation which raised questions over whether the DUP Treasurer Gregory Campbell had checked the permissibility of the donation from the Scottish based "Constitutional Research Council".
In August the Electoral Commission announced that it would not investigate the allegations contained in the film.
Electoral Commission emails
The Commission said it had requested more evidence from the BBC after the broadcast and was told there was no "significant information" other than what was in the programme.
However, the Open Democracy website has obtained internal Electoral Commission e-mails under Freedom of Information showing that the organisation did have concerns about the contents of the Spotlight programme and would be writing to Gregory Campbell reminding him of his responsibilities under the rules governing donations.
Jolyon Maugham told the BBC Radio Ulster's Inside Politics programme he is "staggered" that the Electoral Commission is, in his view, turning "a studiedly blind eye" to the matter.
The DUP insists that it has complied with electoral law at all times.
The Electoral Commission said it made its decision not to open an investigation into the allegations contained in the Spotlight programme "after a thorough review of the programme, information that was provided to us and other sources".