IRA 'was a Troubles protagonist' - Kelly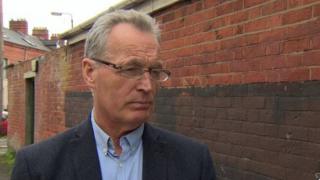 Sinn Féin's Gerry Kelly has clarified his controversial remark about the UK government being "the main protagonist" in the Troubles.
He told BBC News NI that he accepts the IRA was "a main protagonist as well".
He said it was "reasonable for me and for republicans to say that the British were the main protagonists".
"But I am also accepting that political unionism, or British soldiers or whoever wants to say, that the IRA were a main protagonist," he added.
"I have no difficulty with that, because the IRA were a main protagonist."
'Stand over it'
The controversy began on Wednesday when a 30-page Sinn Féin document on legacy issues referred to the British Government as "the main conflict protagonist".
During Thursday's BBC News NI interview, Mr Kelly referred to the IRA being "a" main protagonist with the government being "the" main protagonist.
When pressed on the issue, he said: "Arguing over a single word or a single clause over the the next three or four weeks... is not going to get us anywhere.
"I've put the point and I stand over it."
The DUP condemned Sinn Féin's stance on the issue.
"Quite frankly, it's an absolutely absurd statement from Sinn Féin," said DUP MP Emma Little-Pengelly.
"It's a massive insult to the many thousands of victims right across Northern Ireland who are the victims of paramilitary violence."